'Hamlet' & 'The Winter's Tale'
Dates
28th February - 12th March 1966
Directors
Pat Laurie & Dennis Eddowes
As was the custom at the time in 1967 we presented our 'Shakespeare Festival' - two back-to-back productions in consecutive weeks at the old Derby Playhouse in Sacheveral Street.
Kenneth Pipes played our third 'Hamlet' in Pat Laurie's 1966 production which featured a grand set designed and painted by Susan Ingram and constructed by Duncan McGregor.
The following week saw our fourth production of 'The Winter's Tale' which was introduced by Marsden Starkey in the role of 'The Storyteller', a representation of William Shakespeare himself. This play also featured dances arranged by Cynthia Haslam and a musical setting for the song 'Get You Hence' composed by Douglas Marsden.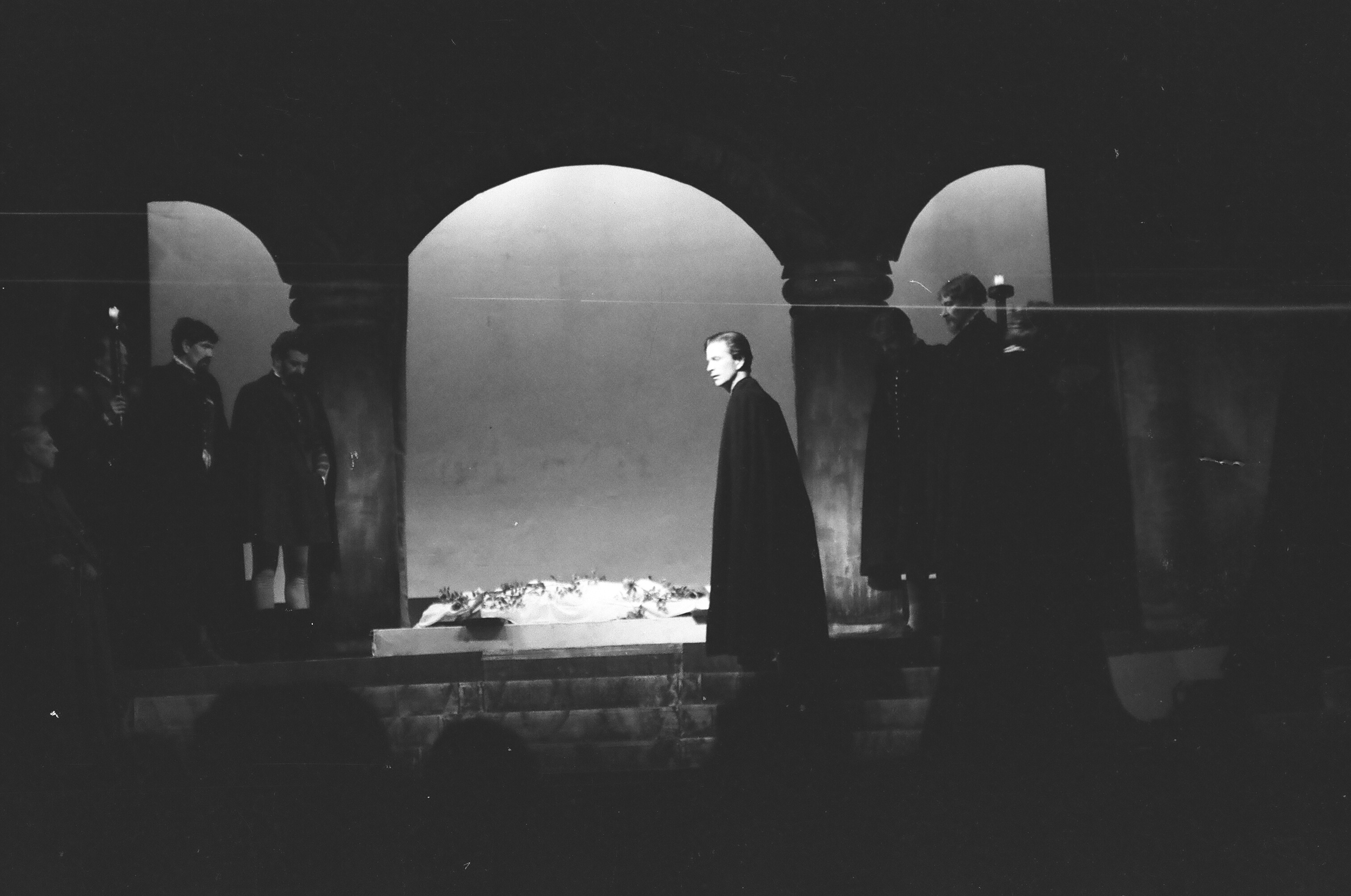 All photographs taken by Tony Eycott.
Crew
HAMLET
Director - Pat Laurie
Setting Design & Painting - Susan Ingram
Stage Director - Jean Wood
Stage Manager - Gordon Styche
Musical Director - Christopher Redfearn
Wardrobe - Sybil Gamble & Jean Wheeler
Properties - Mary Willis
Make-up - Enid Clarke
Prompter - Barbara Pipes
THE WINTER'S TALE
Director - Dennis Eddowes
Associate Producer - Kenneth Collier
Set Construction - Duncan McGregor
Set Painting - Pauline Knight
Stage Director - Ruth Turner
Stage Manager - Duncan McGregor
Music - Fred Minchin
Wardobe - Jean Wheeler & Sybil Gamble
Properties - Mary Willis
Make-up - Ursula Eddowes
Prompter - Hettie Hill
Cast
HAMLET
Claudius - William Pottier
Hamlet - Kenneth Pipes
Polonius - Donald Potter
Horatio - Eric Spencer
Laertes - Tony Jaggers
Rosencrantz - Jack Dixon
Guildenstern - Chris Redfearn
Osric - Travis Sutton
Voltimand - Kenneth Sayer
Cornelius - John Blackwall
Marcellus - Leonard Smith
Barnardo - Brian McLester
Francisco - John Blackwall
First Gravedigger - Harold Warren
Second Gravedigger - Kenneth Tipper
Ghost Of Hamlet's Father - Tom Jelley
Fortinbras - John Cocke
Player King - Travis Sutton
Player Queen - Michael Kirk
Lucianus - Leonard Smith
Prompter - Anthony John
Musicians - Jocelyn Moreton & Judy Sharp
Priest - Kenneth Sayer
Gentleman - Brian McLester
Tailor - Jocelyn Moreton
Sailors - Reg Bailey & Jocelyn Moreton
Soldiers - Tony Mooney, Martin Pratt, John Reay & Norman Whitmore
Gertrude - Kitty Scopes
Ophelia - Tessa Scopes
Ladies Of The Court - Enid Clarke, Edna Sillitoe & Hilda Smith
THE WINTER'S TALE
The Storyteller - Marsden Starkey
Leontes - Kenneth Collier
Camillo - Howard Smith
Antigonus - Richard Carter
Cleomenes - Tony Rees
Dion - Hugh Price
Mamillius - Andrew Collier
Polixenes - Frank Garratt
Florizel - Ian Hall
Archidamus - Harold Gamble
Autolycus - Eric Dicken
Officer - Leslie Titmuss
Mariner - William Goodhead
Gaoler - Duncan McGregor
Old Shepherd - Fred Minchin
Clown - John Slater
Lords Of Sicillia - Ian Roberts & Jim Walton
Guards, Musicians, Servants & Shepherds - Jeremy Fitt, William Goodhead, Peter Hunt, Ewen McWilliam, Percy Pickering, Hugh Price & Jim Walton
Hermione - Jessica Clewes
Perdita - Cynthia Haslehurst
Paulina - Marjorie Minchin
Emilia - Doris Knight
Ladies-In-Waiting - Dorothy Haymes & Jane Moore
Servant - Daphne Bridge
Mopsa - Pat Kent
Dorcas - Sally Cooper
Shepherdesses - Christine Bayley, Claire Seddon & Annette Dowding