Traditional and triumphant! Ian Arnot's 1992 production of 'Henry IV (Part I)' was a spectacular and moving show with rousing performances all round.
With dramatic fight choreography and wonderful costumes and armour this production had all the pomp and grandeur of the struggle for royal power alongside the timeless comedy of Falstaff's band of rogues and their friendship with the wayward Prince Hal.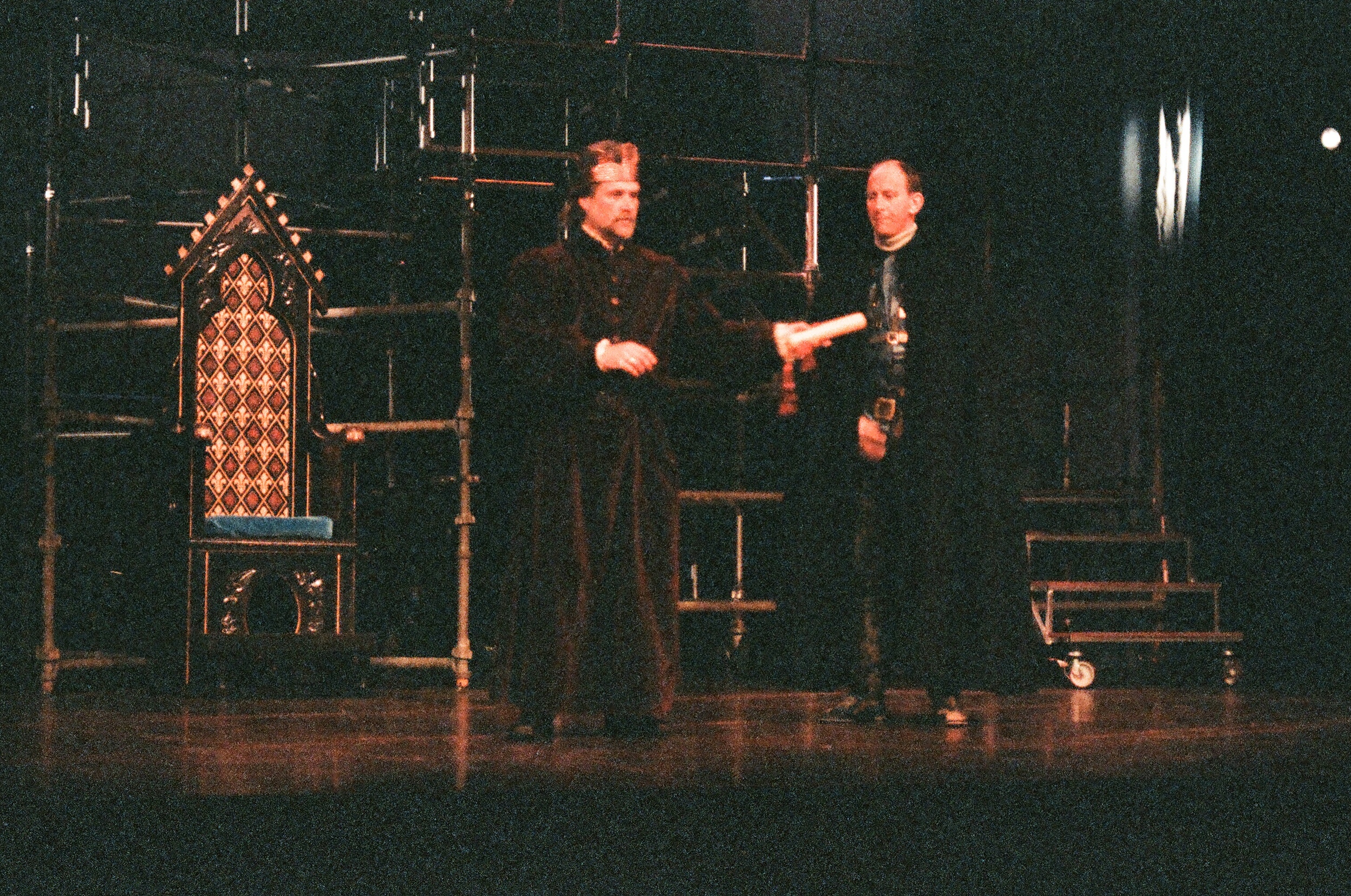 All photographs taken by Tony Eycott.
Crew
Director - Ian Arnot
Assistant Producer - David Williamson
Fight Director - Jonathan Godfrey
Set Designer - Andy Miller
Lighting Designer - Andrew Elsegood
Wardrobe - Flora Palmer, Elaina Evans, Joyce Dean & Lynda Smith
Props - Ruth Eycott, Chris Bloor, Ann Toy, Judy Pratt, Amaryllis Roy & Mary Willis
Stage Manager - Peter Harrington
Deputy Stage Manager - Hazel McDougall
Sound - Volodimir Lebid
Assistant Stage Managers - Clive Ashmore, Glenn Ford, Lorna Harrington, Alan Jackson & Neil Worton
Prompt - Margaret Arnot
Make-Up - Mabs Potter & Jewel Juden
Photography - Tony Eycott
Press Officer - Alicia Petty
Business Manager - Tony Jaggers
Cast
King Henry IV - Mike Evans
Prince Hal - Adrian Hughes
Lord John Of Lancaster - Nick Burns
Earl Of Westmoreland - Phillip Button
Sir Walter Blunt - David Culm
Earl Of Worcester - Keith Briars
Earl Of Northumberland - Hugh Price
Hotspur - Mark Dickinson
Edmund Mortimer - David Williamson
Owen Glendower - Phillip Button
Earl Of Douglas - Fred Wood
Archbishop Of York - Hugh Price
Sir Michael - Paul Hirst
Sir Richard Vernon - John Aldham
Lady Percy - Carolyn O'Brien
Lady Mortimer - Frances Newbury
Harpist - Eve Leveaux
Sir John Falstaff - Mike Charlesworth
Poins - David Muir
Bardolph - Alan Smith
Peto - Jon Mills
Page - Chris Price
Mistress Quickly - Jill Cocke
Francis - John Aldham
Vintner - David Williamson
Gadshill - Paul Hirst
Carrier - Chris Hallam
Chamberlain - Fred Wood
Sheriff - Eric Dicken
Soldiers - Tony Rotherham, Jo Marriot, Richard Bradbury, Anthony Hopkins, Neil James, Matt Page, Ian Ring, Bethany Evans, Mark Shore, Will Wood & Malcolm Perkins
Others - Christine Bayley, Sarah Boguna, Helen Cornfield, Elaina Evans, Charlotte Palmer, Alicia Petty, Amaryllis Roy, Sue Stuart, Tony Cooper, Eric Dicken, Noel Hutchby & Brian Stokes