'Man Of La Mancha'
by Miguel De Cervantes, adapted by Wasserman, Leigh & Darion
Dates
31st January - 4th February 1989
This musical retelling of Cervantes' classic tale of Don Quixote and Sancho Panza was brought to vivid life on the Derby Playhouse stage by Philip Beeson and has excellent cast and crew.
Compelling, moving and witty, the production was splendid entertainment and featured a magnificent set designed by Andy Miller.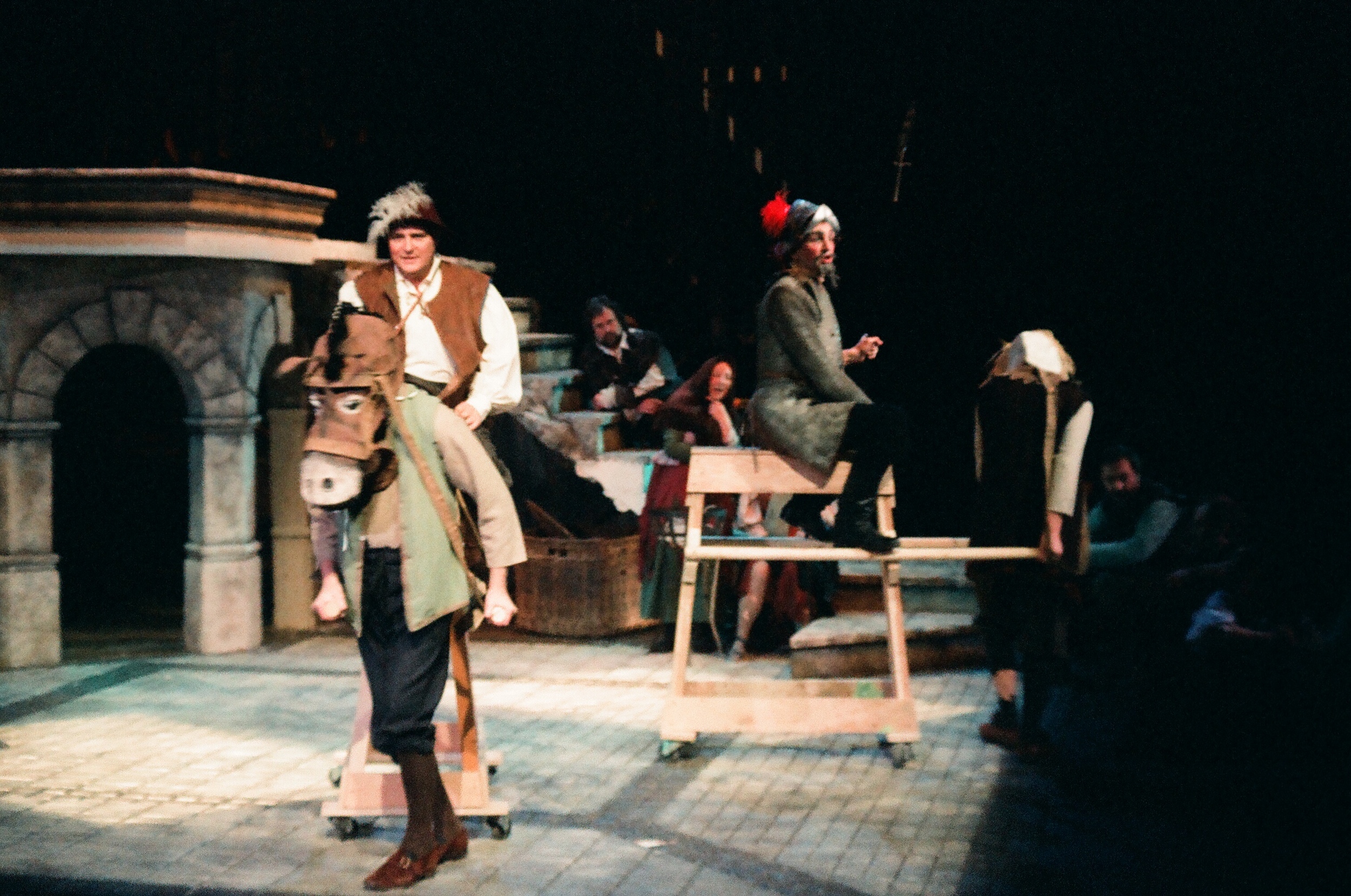 All photographs taken by Tony Eycott.
Crew
Director - Philip Beeson
Musical Director - Andrew Nicklin
Assistant Director - Ann Toy
Choreographer - Jackie O'Brien
Stage Manager - Mike Oldbury
Assistant Stage Manager - Glenn Ford
Wardrobe Mistress - Barbara Martin
Props - Mary Willis, Pat Kinnerley & team
Prompts - Ruth Eycott & Susan Allen
Photographer - Tony Eycott
Set Design - Andy Miller
Lighting Design - Nick Beadle
Book - Peter Eccles
Sound Emma - Sainsbury
Cast
Don Quixote - Philip Beeson
Sancho Panza - Keith Briars
Captain Of The Inquisition - Kenneth Pipes
Aldonza - Gina Butler
The Governor - Mike Charlesworth
The Duke/Dr. Carasco - Mike Evans
Padre - Ian Arnot
Antonia - Elaina Evans
Housekeeper - Lorna Abbot
Barber - Alan Smith
Muleteers - Peter Konowalik, Andy Lloydall, Graham Ward, Peter Wedd & Fred Wood
Maria - Judy Pratt
Fermina - Alicia Petty
The Inquisitor - Tony Jaggers
Prisonsers, Guards, etc. - Irene Patten, Jenny Jaggers, Peggie Williamson, Glenn Ford, Mike Oldbury & Carolyn O'Brien