venue
Derby Grammar School
Dates
9th - 13th April & 27th - 31st May 2004
Our 2004 open-air production of 'Much Ado About Nothing' had a Tuscan feel and was set in the aftermath of the Second World War. The show featured a vintage jeep, wonderful dance choreography and a spectacular firework display.
Beyond the spectacle, though, this was an excellent comic production with some exceptional performances. Ben Adams and Alan Smith took the Best Actor and Best Supporting Actor awards respectively in the following year's Eagle Awards and Elaina Evans took the award for Best Production as well - a clean sweep with wins in every category we were nominated for!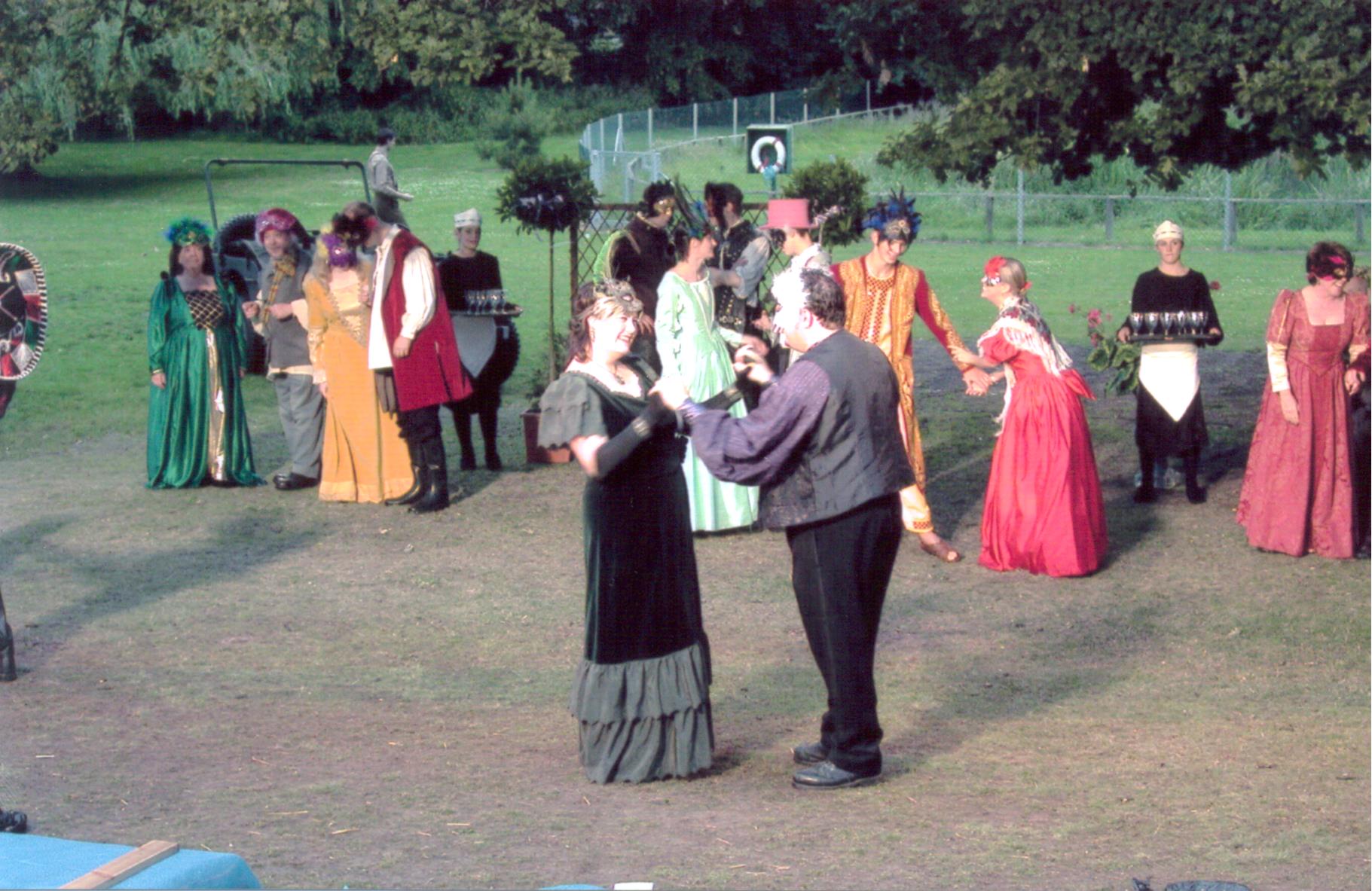 All photographs taken by Colin Kirk.
Crew
Director - Elaina Evans
Director's Assistant - Elaine Lawrenson
Stage Director - Paul Kirkland
Choreographer - Jackie O'Brien
Fight Co-ordinator - Martin Frost
Lighting Design - David Philips
Lighting Operator - Neil Jones
Sound Design & Operation - Andy Onion
Wardrobe Mistress - Flora Palmer
Wardrobe Assistants - Sophie Douglas, Pat Kinnerley, Julia Johnson, Ann Sharp, Jane Roy
Props - Christine Crabtree & Lyndon Sanderson
Stage Crew - Jamie Lawrenson & Lyndon Sanderson
Set Design - Elaina Evans
Set Construction - Terry Powles & Lyndon Sanderson
Prompt - Margaret Arnot
Poster & Programme Design - TPP Design & Print
Sponsorship & Marketing - Laurence Connelly-Byrne
Printing - The Byrne Media Company
Tuscany Images - Ashely Franklin
Press - Joan Garratt
Photographs - Colin Kirk
EDS Liaison - Helen Pearce-McNeill
Front Of House & Licensee - Phil Button
Cast
Don Pedro - Nick Hallam
Benedick - Ben Adams
Claudio - Ben Laurence
Balthasar - Laurence Connelly-Byrne
Don John - Richard Hand
Borachio - Neil Harris
Conrade - Mark Arnot
Leonato - Gordon Gell
Hero - Alexandra Dey
Beatrice - Caroline Reader
Antonio - Ian Arnot
Margaret - Lizzie Smith
Ursula - Charlotte Palmer
Friar Francis - Hugh Price
Dogberry - Alan Smith
Verges - Mathew Shepherd
Sexton - Jonathan Wolff & Martin Frost
Messenger - Jack Bamford
Watchmen - Joan Garratt, Mikey Smith, Rob Rigby, Tony Jaggers & Peter Knight
Wedding Guests & Villagers - Janine Sanderson, Sheridan Lowe, Beckie Collyer, Mikey Smith, Melvyn Crabtree, Terry Powles, Caroline Hands, Sarah Glass, Clare Snape, Sue Dale, Rob Rigby, May Al-Hassan & Martin Frost