Dates
1st - 5th February 2000
Ian Arnot's 2000 production of 'Othello' was a powerful, passionate and emotive telling of Shakespeare's great tragedy of the Moor of Venice and his battle with pride, love and jealousy.
Superbly staged and lit the show was intense and brilliantly acted throughout and proved extremely popular with audiences at Derby Playhouse.
Andrew Hislop and Caroline Reader, in the roles of Othello and Desdemona respectively, went on to win the awards for Best Performance By An Actor and Best Performance By An Actress at the 2000 Eagle Awards for amateur theatre in Derby.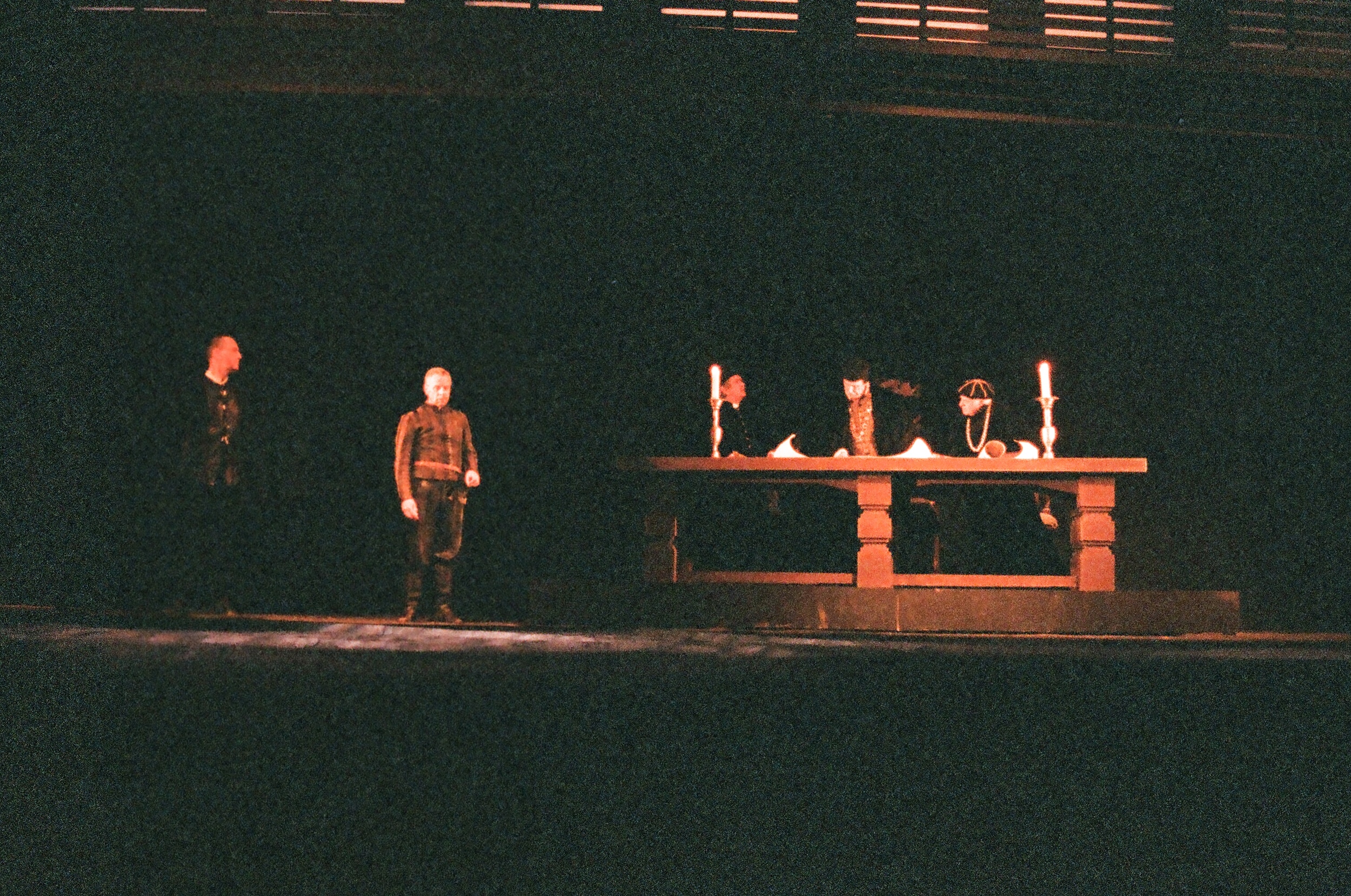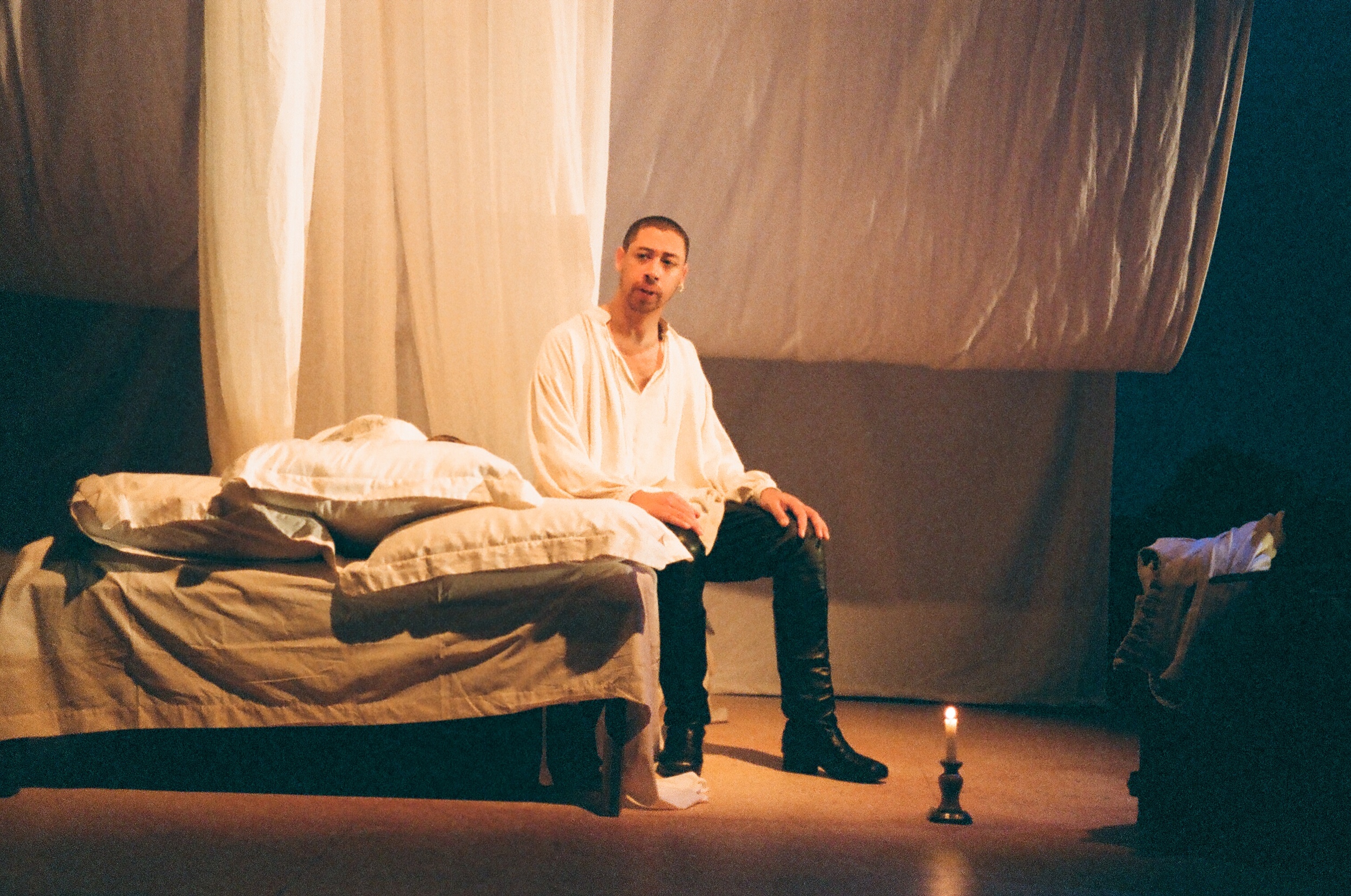 All photographs taken by Tony Eycott.
Crew
Director - Ian Arnot
Designer - Gavin Ling
Stage Manager (DSTC) - Ken Owen
Stage Manager (Derby Playhouse) - Ben Monk
Lighting Design - Alex Stafford
PA - Ann Toy
Sound & Lighting Operators - Nick Greenhill & David Geard
Wardrobe Mistress - Flora Palmer
Wardrobe Assistants - Pat Kinnerley, Elaine Lawrenson, Karen Owen & Ann Sharp
Props - Ruth Eycott, Molly Renshaw, Judy Pratt & Ann Toy
Stage Crew - Phil Austin, Jenny Billington Earl, Alan Jackson, Andy Jones, Barney Jones, Antony Owen, Karen Owen, Brian Renshaw, Helen Savage, Lizzie Smith & Brian Stokes
Prompt - Margaret Arnot
Set Construction - Tony Eycott, Ken Owen, Brian Stokes & members of the company
Poster Design - Paul Arnot
Voice Coaching - Jenny Billington Earl & Jill Cocke
Fight Director - Martin Frost
Embroidery - Alicia Petty
Arrangement Of Songs - Lisa Cokayne
Photography - Tony Eycott
Press Officer - Joan Garratt
Business Manager - Tony Jaggers
Front Of House Manager - Tony Eycott
Cast
Roderigo - Howard Nelson
Iago - Alan Smith
Brabantio - Mike Leech
Othello - Andrew Hislop
Cassio - Mark Hopwell
Duke Of Venice - Bryan Cleary
Senators - Hugh Price & Eric Dicken
Desdemona - Caroline Reader
Montano - Fred Wood
Emilia - Lorna Harrington
Herald - Graham Robinson
Bianca - Elaina Evans
Lodovico - Gordon Gell
Gratiano - Laurence Byrne
Ensemble - Tony Cooper, David Culm, Eric Dicken, Chris Elliott, Jamie Ogden, Stefan Osvath, Cliff Perry, Hugh Price, Kevin Redfern, Graham Robinson, Christine Bayley, Jill Cocke, Rachel Collinge, Jenny Cooper, Joan Garratt, Stef Hall, Charlotte Palmer, Catherine Robinson & Clare Snape