Dates
9th - 13th November 2010
"An excellent production"
Review from Derby Evening Telegraph
Chris Scott's 2010 production of Shakespeare dark tale of passion, jealousy and betrayal was a seething, sensuous and exotic mix of intense performances, gripping action and perfectly balanced tension.
Complete with a masquerade ball, bawdy belly-dancing and dramatic fight scenes the show certainly provided much spectacle alongside the brooding, simmering atmosphere generated by the central performances.
Packed houses meant we even had to add a matinee showing at short notice to meet the demand to see this fantastic production!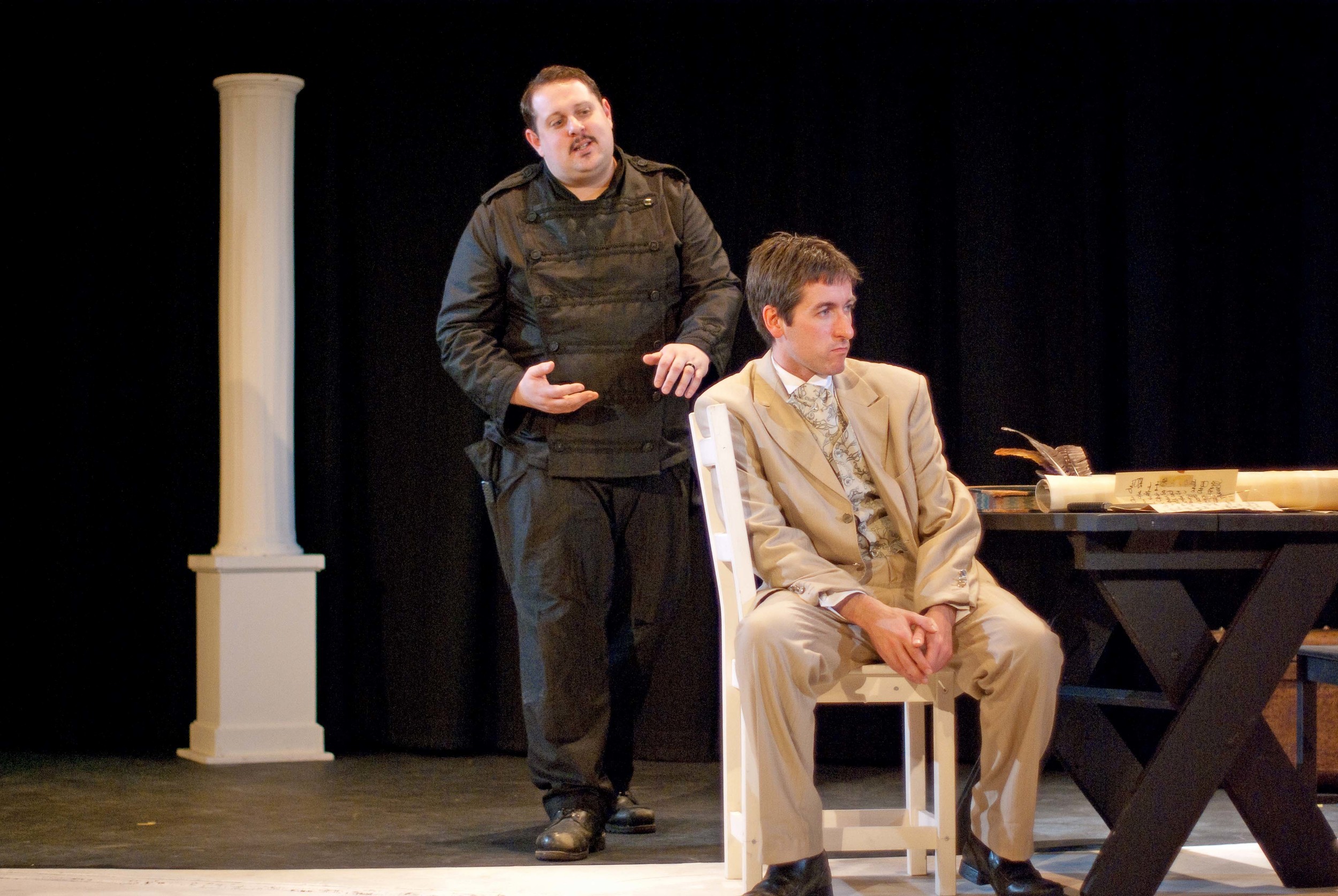 All photographs taken by Bryan Cleary.
Crew
Director - Chris Scott
PA - Elaine Lawrenson
Stage Manager - Ken Owen
Lighting Design - Shoki Winks
Wardrobe Mistress - Flora Palmer
Wardrobe Assistants - Jenna Brown, Irene Jade, Julia Johnson, Pat Kinnerley, Katherine Newbury, Karen Owen, Jane Roy, Ann Sharp & Hope Ward-Brown
Hair & Make-Up - Kym Bellringer
Props - Helen Cornfield, Elaine Lawrenson & Cat Taplin
Set Design & Construction - Ken Owen & Chris Scott
Prompt - Margaret Arnot
Fight Choreography - Will Tipper
Masquerade Choreography - Becky Dunning
Belly-Dance Choreography - Lucy Sharratt
Programme & Poster Design - Chris Scott & CCT Creative
Press - Joan Chambers
Photography - Bryan Cleary
Business Manager - Phil Button
Cast
Othello - Richard Davy
Desdemona - Claire Stewart
Cassio - Danny Duder
Iago - Mathew Shepherd
Emillia - Niki Caister
Roderigo - Stuart Phillips
Duke Of Venice - Ian Arnot
Brabantio - James Brereton
Gratiano - Jonathan Wolff
Lodovico - Jordan Hollis
Montano - Will Tipper
First Gentleman - Mike Beddard
Second Gentleman - Matthew Sharratt
Senator - Michael Gaunt
Sailor - Richard Hammond
Soldiers - Alex Hargreave, Terry Powles, Alex Roy & Rob Turner
Cypriot Women - Chris Bloor, Faye Brown, Joan Chambers, Jill Cocke, Elena Fox, Charlotte Matthews,Kezi Methuen-Jones, Cheryl Roberts, Clare Snape & Cat Taplin