Dates
51h - 10th March 1979
Our former President Barbara Pipes directed our fourth production of 'Richard III' in March 1979.
With Paul Hicken in the lead role as the infamous King Richard this show filled the Guildhall stage with all the menace and drama that befits one of Shakespeare's greatest villains.
The striking poster design featured an illustration of the smothering of the infant 'Princes in the tower', hand drawn for us by Venita Cook.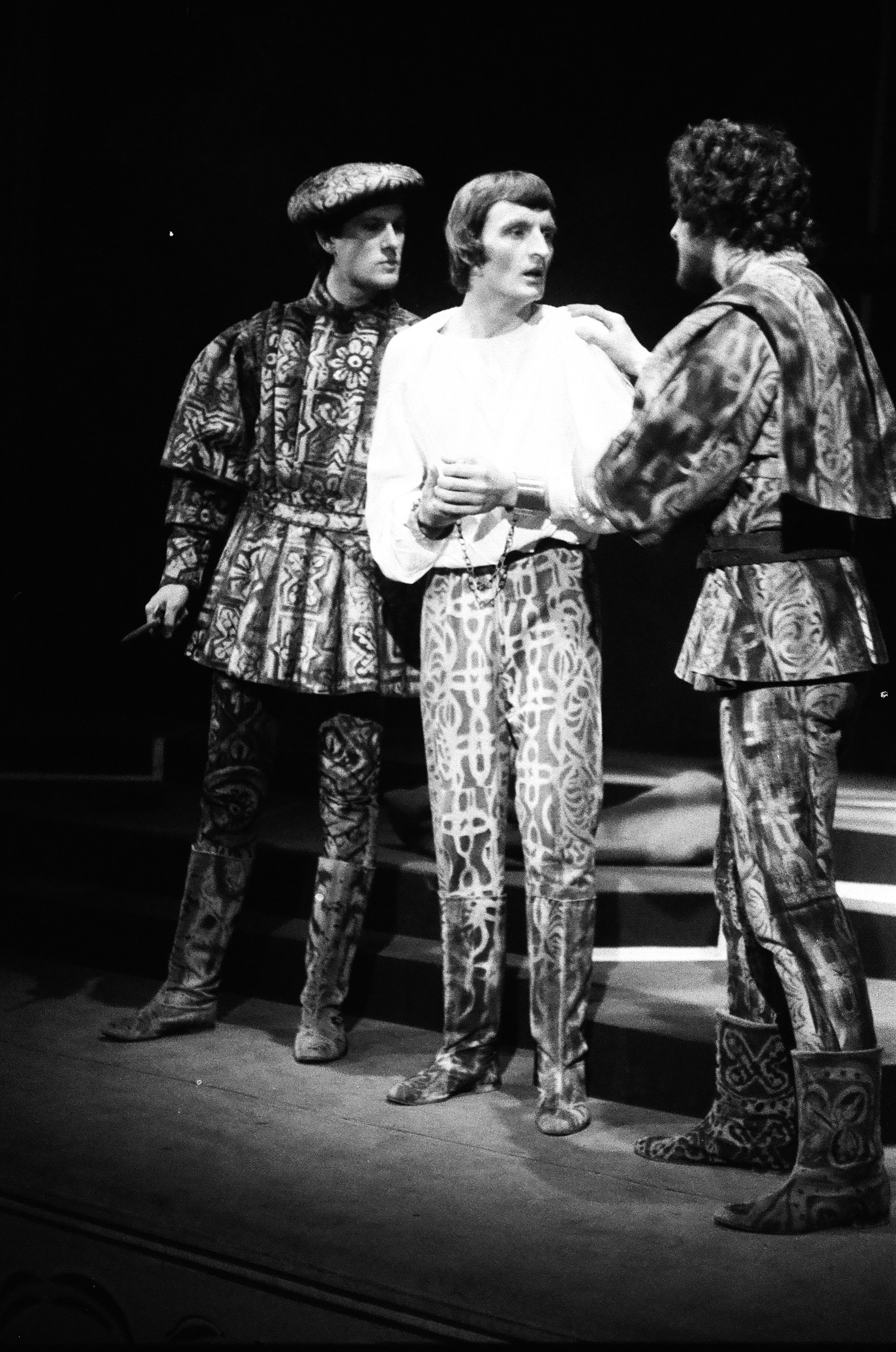 All photographs taken by Tony Eycott.
Crew
Director - Barbara Pipes
Set Design - Andrew Pickering
Stage Management - Jean Wood
Wardrobe - Sybil Gamble, Jean Wheeler & Joyce Collier
Properties - Mary Willis, Flora McGregor & Helen Fry
Lighting - Anthony Bradshaw
Sound - Simon Shaw
Make-up - Enid Clarke
Properties - Mary Willis
Book & Production Secretary - Susan Linnell
Front Of House Manager - Keith Garratt
Cast
Richard, Duke Of Gloucester - Paul Hicken
George, Duke Of Clarence - Tony Walker
Sir Robert Brakenbury - Geoffrey Andrews
Lord Hastings - Hugh Price
Lady Anne - Joanne Williams
Berkeley - David Griffiths
Tressel - John Kirby
Earl Rivers - Eric Dicken
Lord Grey - Martin Illston
Queen Elizabeth - Mavis Jones
Duke Of Buckingham - Terry Bailey
Earl Of Derby - Stan Huyton
Queen Margaret - Joan Garratt
Marquess Of Dorset - Anthony Varney
Sir William Catesby - David Lazzari
King Edward IV - Kenneth Pipes
Sir Richard Radcliffe - David Jones
Duchess Of York - Vida Ayres
Edward Plantaganet - Matthew Atkinson
Margaret Plantaganet - Lynne Calladine
Archbishop Of York - Kenneth Collier
Richard, Duke Of York - Andrew Walker
Sir James Blunt - Bill Henchliff
Edward, Prince Of Wales - Paul Cannon
Lord Mayor Of London - Bill Goodhead
Cardinal Bourchier - Tom Jelley
Messenger - Glyn Morgan
Bishop Of Ely - Richard Carter
Lord Lovel - Gordon Fry
Page - Richard Hudson
Sir James Tyrell - Tony Jaggers
Henry, Earl Of Richmond - Tony Walker
Sir Walter Herbert - Michael Walters
Jane Shore - Sharon Fallows
Citizens, Soldiers, etc. - Mary Carter, Helen Fry, Helen Gerard, Jean Pickering, Jill Moore, Karen Roberts, Miles Hunnisett, Michael Illston, Glyn Morgan, Michael Walters & Tim Young