Dates
29th January - 2nd February 2002
"If this company ever mounts anything less than a handsome production, you can have a pound of my flesh."
Review from Derby Evening Telegraph
With music, laughter and a spectacular set Daniel Madison's 2002 production of 'The Merchant Of Venice' filled the Derby Playhouse stage with all the warmth of the Mediterranean sun.
The cast brought humanity and sympathy to what can be a challenging play and gave us well-rounded interpretations of the conflicting sides in the legendary 'pound of flesh' quarrel.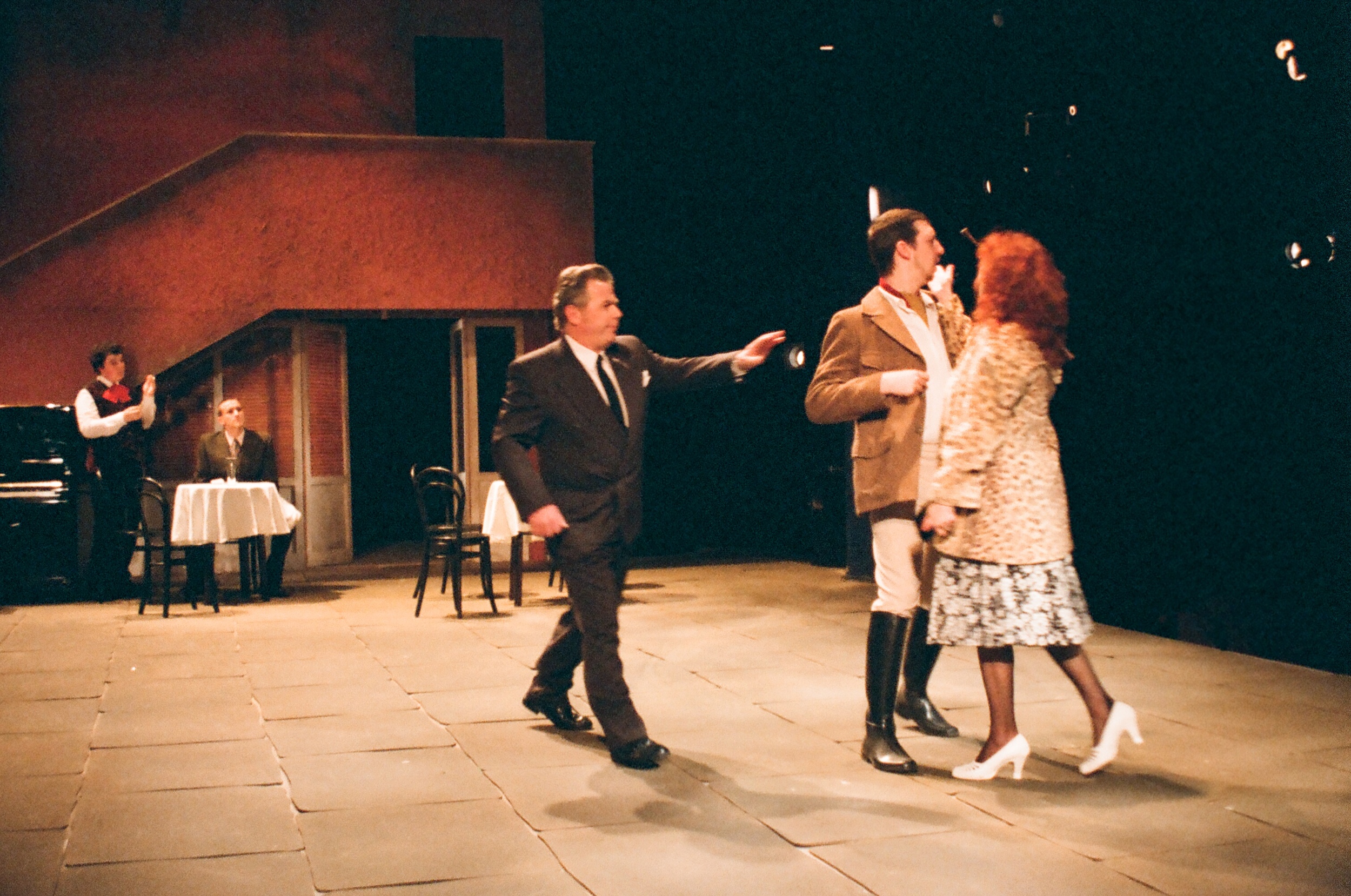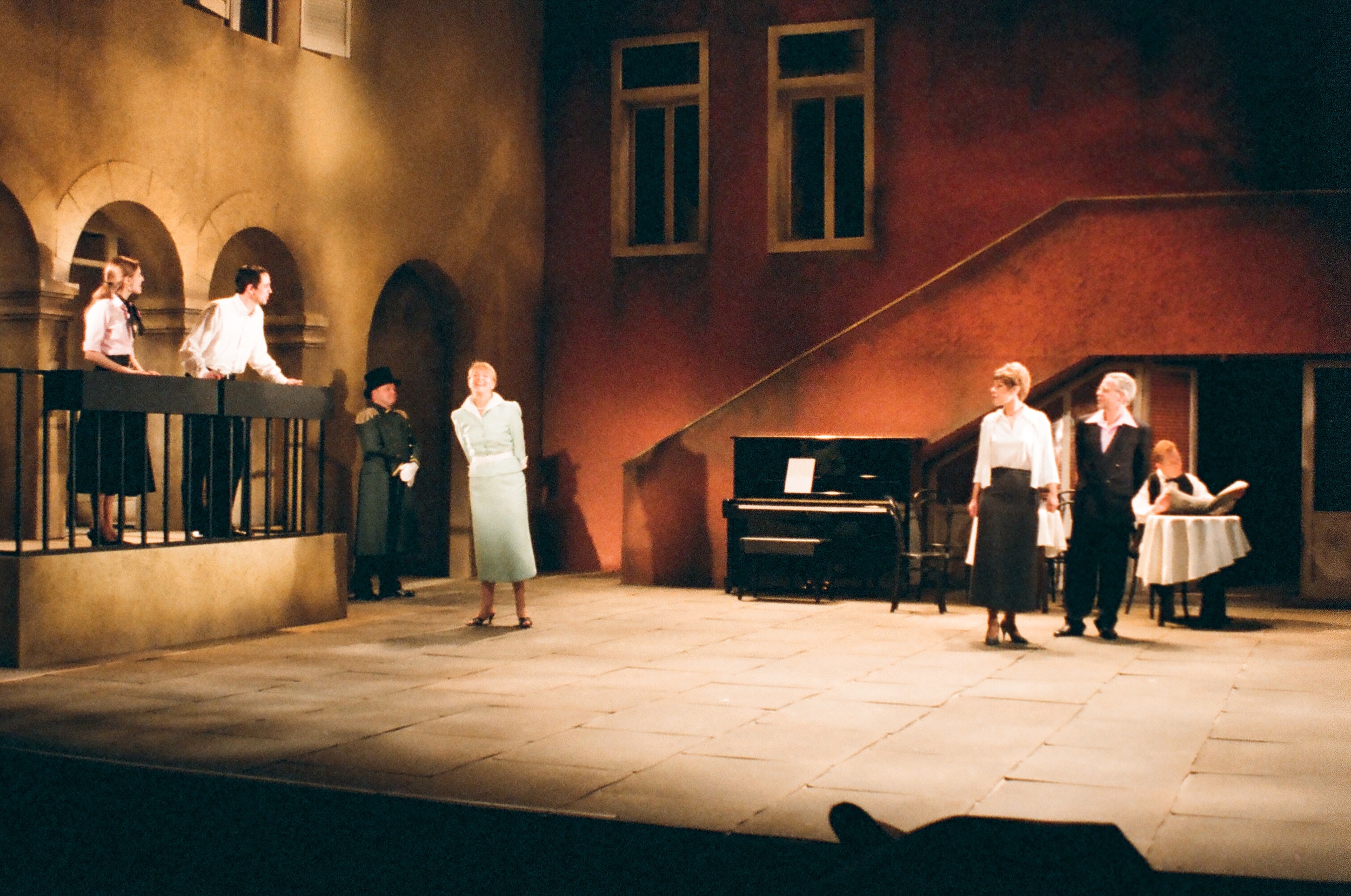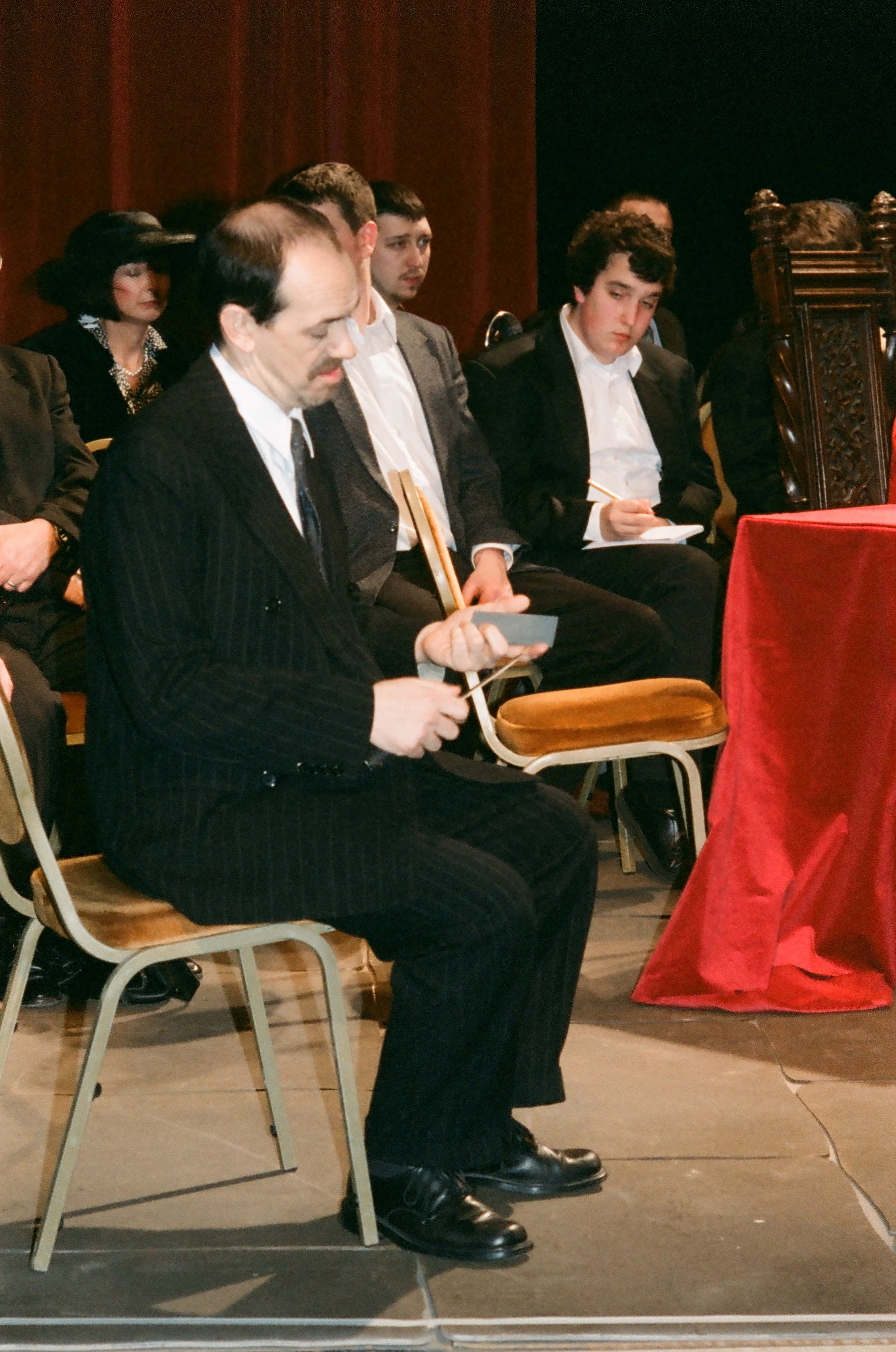 All photographs taken by Tony Eycott.
Crew
Director - Daniel Madison
Designer - Gavin Ling
Stage Manager (DSTC) - Ken Owen
Stage Manager (Derby Playhouse) - Ben Monk
PA - Ruth Eycott
Lighting Design - Alex Stafford
Sound Design - David Phillips
Book - Heidi Taunt
Wardrobe Mistress - Flora Palmer
Wardrobe Assistants - Pat Kinnerle, Karen Owen, Catherine Robsinson & Ann Sharp
Props - Ruth Eycott & Ann Toy
Choreography - Pauline Reader
Stage Crew - Alan Jackson, Andrew Jones, Neil Jones, Helen Savage, Brian Stokes & Joyce Stokes
Prompt - Margaret Arnot
Set Construction - Tony Eycott, Alan Jackson, Ken Owen, Brian Stokes and members of the company
Poster Design - Katherine Eycott
Children's Matron - Karen Owen
Dialogue Coach - Ian Arnot
Photography - Tony Eycott
Press Officer - Joan Garratt
Business Manager - Tony Jaggers
Front Of House Manager - Tony Eycott
Cast
Antonio - Mike Evans
Bassanio - Barry Green
Gratanio - Nick Hallam
Lorenzo - Guy Evans
Salerio - Bryan Cleary
Solanio - Stephanie Collyer
Shylock - Alan Smith
Jessica - Lizzie Smith
Tubal - Tony Cooper
Launcelot - Howard Nelson
Old Gobbo - Hugh Price
Portia - Elaina Evans
Nerissa - Lorna Harrington
Balthazar - Graham Robinson
Prince Of Morocco - Laurence Byrne
Prince Of Aragon - Eric Dicken
Prince Of Naples - Kevin Redfern
Count Palatine - Terry Powles
Lord Le Bon - James Peake
Baron Falconbridge - Ben Hands
Nephew To The Duke Of Saxony - Ben Lawrence
Duke Of Venice - Tony Jaggers
Nuns - Rachel Collinge & Charlotte Palmer
Mussolini - Melvyn Crabtree
Barrow Boy - Mikey Smith
Cafe Proprietor - Gordon Gell
Pianist - Donna Jordan
Servant - Mark Hopwell
Police Officer - Cliff Perry
Tourists, Tarts, Wide Boys, Photographers, Revellers & Denizens Of Venice - Christine Bayley, Rebecca Child, Jenny Cooper, Helen Cornfield, Rachael Cornfield, Christine Crabtree, Anne Evans & Andrew Harker