'The Merry Wives Of Windsor'
Dates
31st May - 4th June 1994
Shakespeare's light-hearted glimpse of Elizabethan country life filled the stage in fine style with Phil Button's 1994 production of 'The Merry Wives Of Windsor' at Derby Playhouse.
Complete with a stunning Tudor-style set and a cast of whimsical characters the show was warm, exhilarating and funny. Ian Arnot took the role of Sir John Falstaff, the bard's legendary rascal, and brought great comedic skill and timing to the farcical story of a womanising double-dealer outwitted by the targets of his unwanted attention. Lorna Harrington and Elaina Evans played the titular 'Wives' who turn the tables on Falstaff culminating in a spectacular rendition of the climactic forest scene complete with a wonderfully illuminated Tudor 'tree' onstage.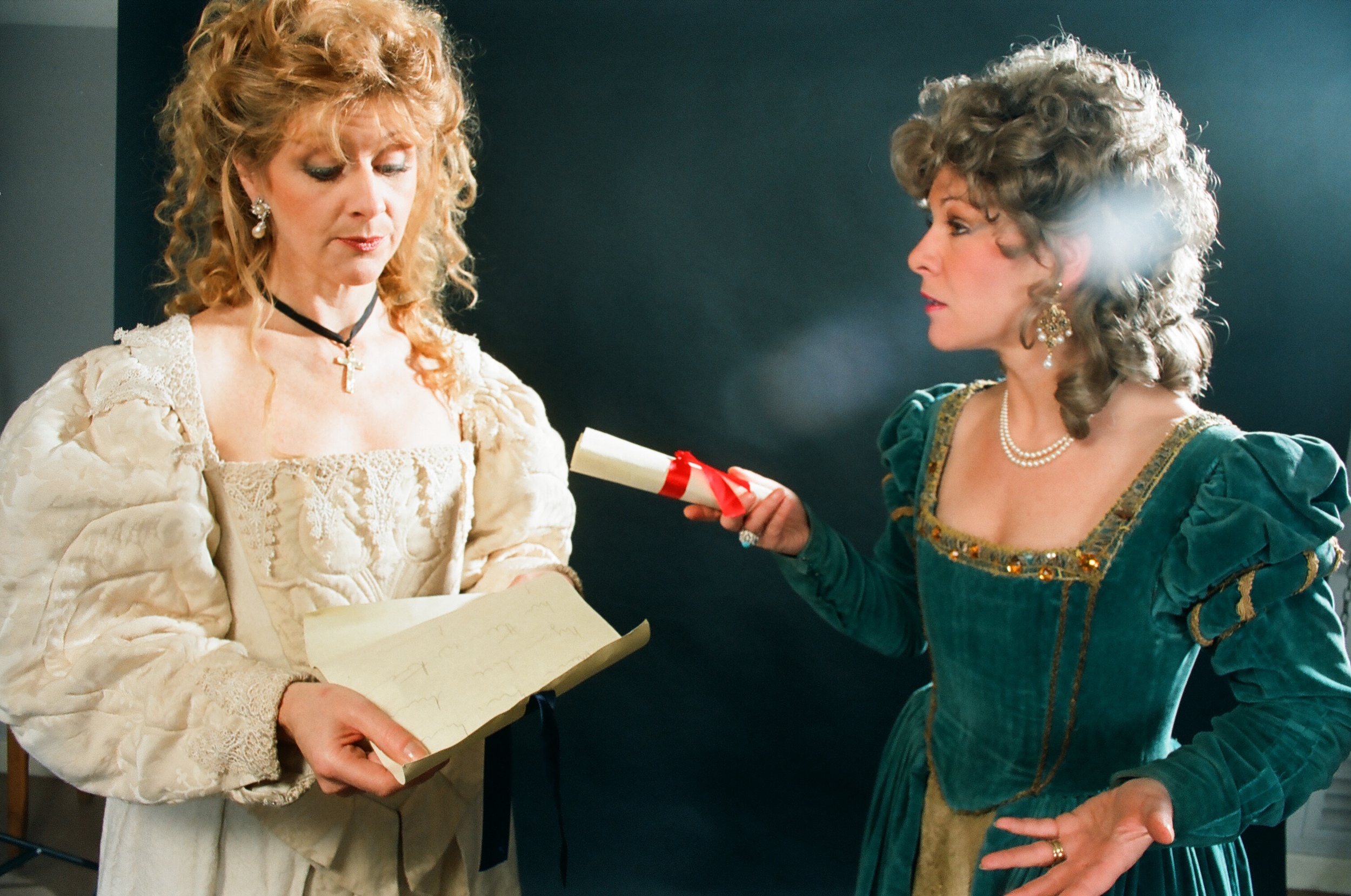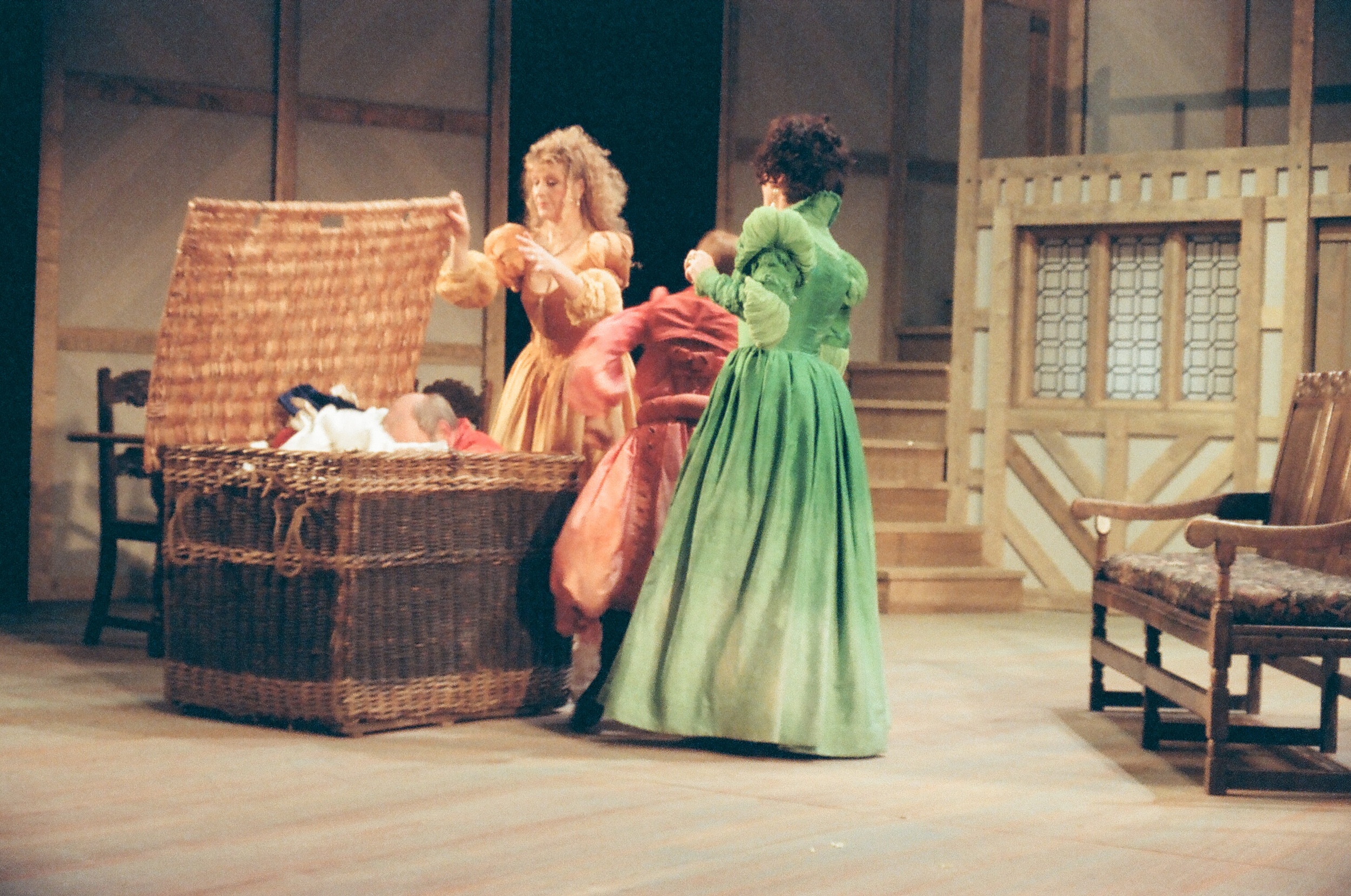 All photographs taken by Tony Eycott.
Crew
Director - Phil Button
PA - Helen Cornfield
Choreographer - Jackie O'Brien
Stage Manager (DSTC) - Peter Harrington
Stage Manager (Derby Playhouse) - Richard Hudson
Deputy Stage Manager - Ellie Jones
Set Designer - Andy Miller
Lighting Designer - Andrew Elsgood
Lighting Operator - Alex Stafford
Sound - Simon Ling
Wardrobe Mistress - Flora Palmer
Wardobe Assistants - Lynne Adams, Joyce Dean, Pat Kinnerley & Lynda Smith
Props - Ruth Eycott, Ann Toy, Alicia Petty & Judy Pratt
Stage Crew - Chris Bloor, Alex Bloor, Paul Harrington, Barney Jones, Annabelle Pepper, Charlotte Palmer & Matthew Purland
Prompt - Margaret Arnot
Make-up - Jewel Juden
Photography\Front Of House - Tony Eycott
Press Officer - Alicia Petty
Business Manager - Tony Jaggers
Cast
Justice Robert Shallow - David Guest
Abraham Slender - David Williamson
Sir Hugh Evans - David Hawley
George Page - Mike Evans
Sir John Falstaff - Ian Arnot
Bardolph - Eric Dicken
Nym - Fred Wood
Pistol - Mark Dickinson
Anne Page - Lydia Guest
Meg Page - Lorna Harrington
Alice Ford - Elaina Evans
Peter Simple - David Chamberlain
Host Of The Garter Inn - Mark Hopwell
Robin - Sandy Cumming
Mistress Quickly - Irene Patten
John Rugby - Chris Hallam
Doctor Caius - Tony Cooper
Fenton - Graham Stanford
Frank Ford - Alan Smith
Robert - Brian Stokes
John - Glenn Ford
William Page - Mark Bools
Children Of Windsor - Rachael Corrnfield, Elizabeth Smith, Samantha Lawrenson, Sarah Freeman, Kelly Adams, Anthony Emery & Richard Murfin