venue
Derby Grammar School & Minack
Dates
23rd - 27th July & 12th - 16th August 2002
Director
Jenny Billington-Earl
"This is a spectacular show by any standard"
Review from The Cornishman
'The Tempest' is a very special play for both Derby Shakespeare Theatre Company and the Minack Theatre. With it having been the first play we presented a full production of in 1909 (having been preceded by a selection of scenes from 'As You Like It') it was a great honour for us to be chosen to produce it again to mark the 70th anniversary of the Minack.
Jenny Billington-Earl's production had all the spectacle and magic of this wonderful play and worked perfectly both at the Minack and in the grounds of Derby Grammar School, where it played a few weeks before travelling to Cornwall.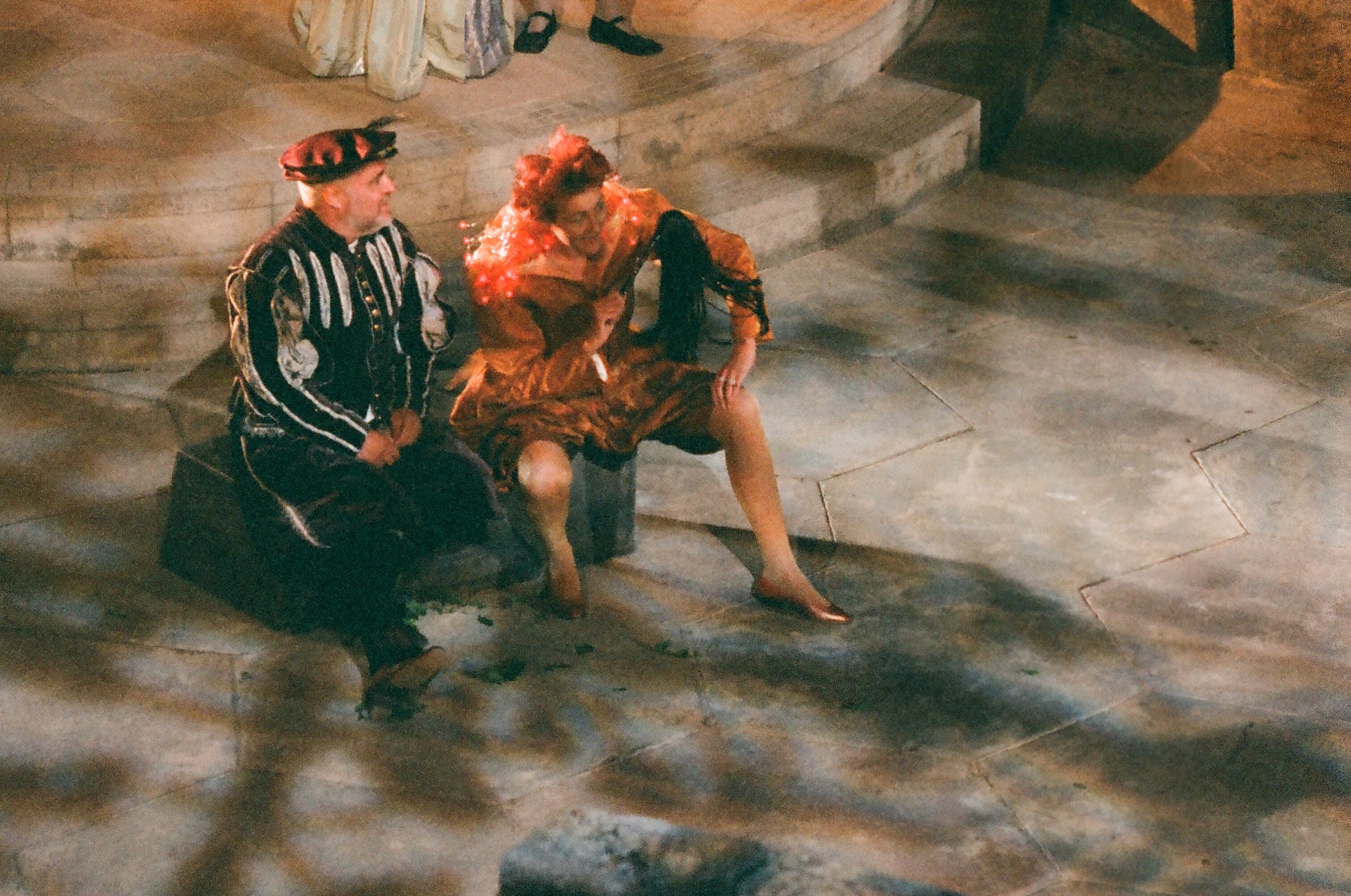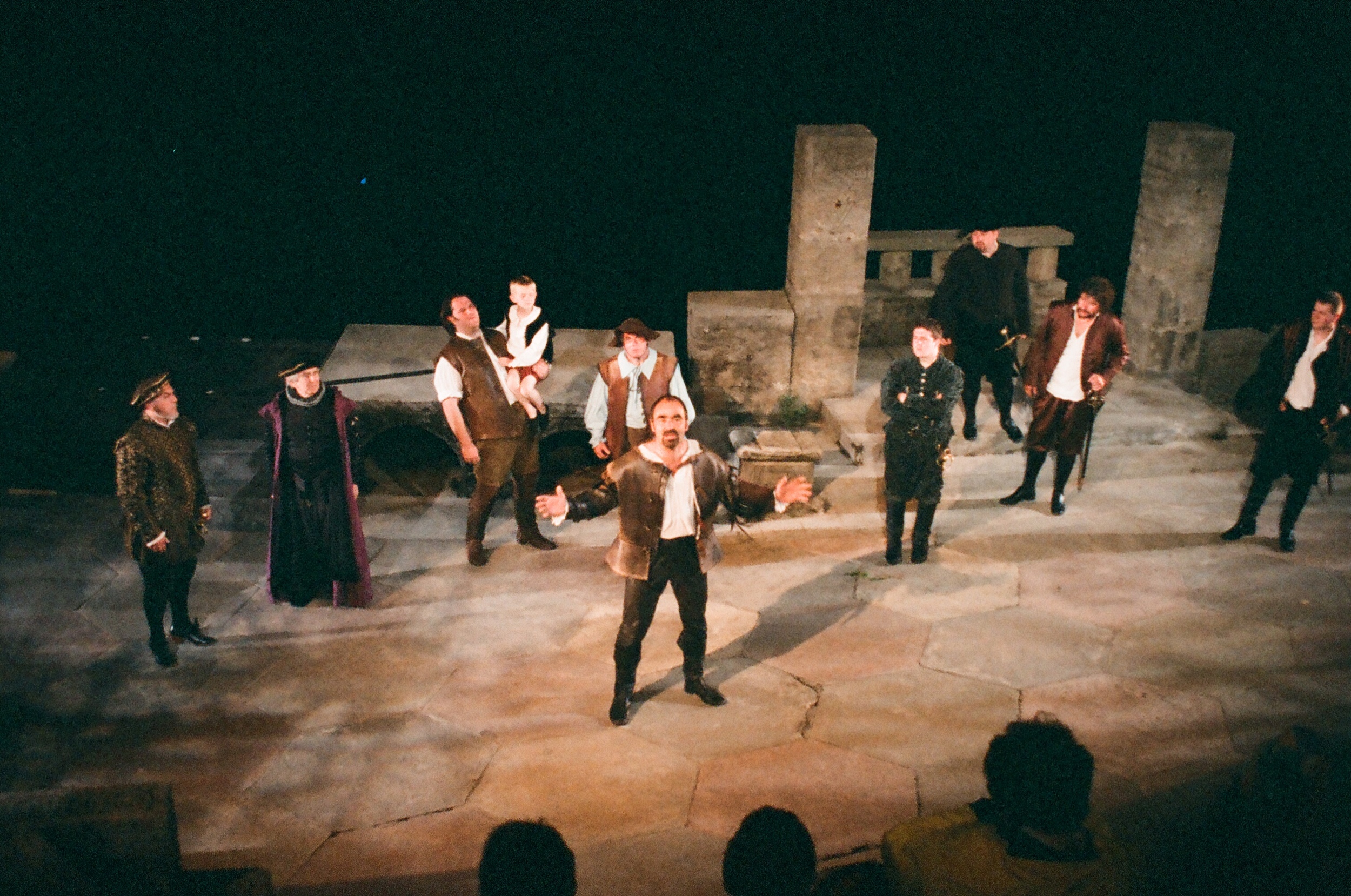 All photographs taken by Bryan Cleary.
Crew
Director - Jenny Billington-Earl
PA To The Director - Jenny Cooper
Designer - Julia Walker
Stage Manager - Ken Owen
Deputy Stage Manager - Brian Stokes
Original Music - Michael Neil
Ariel's Songs - Lisa Cokayne
Choreographer - Jackie O'Brien
Rhythm Coach - Mel Clarke
Production Assistant - Alan Smith
Lighting Design - Alex Stafford
Lighting Operation - Anthony Owen
Incidental Music & Sound Compiled By - Jenny Billington-Earl
Sound Recording & Effects - Laurence Holmes & Ashley Franklin
Sound Operation - Andrew James
Wardrobe Mistress - Flora Palmer
Wardrobe Assistants - Pat Kinnerley & Ann Sharp
Ship & Devil Costumes - Karen Owen & Lynda Smith
Other Costume Design - Julia Walker
Properties - Ruth Eycott & Ann Toy
Stage Crew - Helen Savage, Karen Owen & Brian Renshaw
Prompt - Margaret Arnot
Pyrotechnics Director - Mich Durant
Children's Chaperone - Karen Owen
Poster Design - Julia Walker
Programme Design - Laurence Conneely-Byrne
Printing - Spectrographics Ltd.
Photography - Tony Eycott
Press Officer - Joan Chambers
Marketing - Laurence Conneely-Byrne
Theatre Licensee - Tony Jaggers
Front Of House - Tony Eycott
Cast
Prospero - Keith Briars
Miranda - Helena Franklin
Antonio - Adrian Robinson
Alonso - David Guest
Sebastian - Michael Stewart
Ferdinand - Guy Evans
Gonzalo - Hugh Price
Francisco - Morgan Brind
Adrian - Ben Lawrence
Ariel - Joanna Hands, Lorna Harrington, John Hale, Andrew Harker, James Peake, Jill Cocke & Laura Smith
Caliban - Laurence Conneely-Byrne
Trinculo - Tony Cooper
Stefano - Ian Arnot
Master - Jake Billington
Boatswain - Nick Hallam
Mariners - Michael Darmola, Jamie Lawrenson, Shane Perkins, Terry Powles & Luke Tozer
Goddesses - Carolyn O'Brien, Joan Garratt & Stephanie Collyer
Other Parts - Christine Bayley, Mel Clarke, Becky Collyer, Jacob Collyer, Sue Dale, Elaine Lawrenson, Joseph O'Brien, Katie O'Brien, Charlotte Palmer, Molly Renshaw, Lola Scott and members of the company