Dates
10th - 14th November 2009
"A credit to the company"
Review from Derby Evening Telegraph
Chris Scott directed our first ever production of 'Titus Andronicus' at the Guildhall in November 2009.
Using a stylish set with several moving platforms and levels this show was a magnificent telling of Shakespeare's Roman revenge tragedy. With its themes of corruption, betrayal and vengeance the story played out with all the fast-paced intensity of a cinematic thriller as audiences followed Titus on his journey from glory to despair and eventual bloody retribution and death.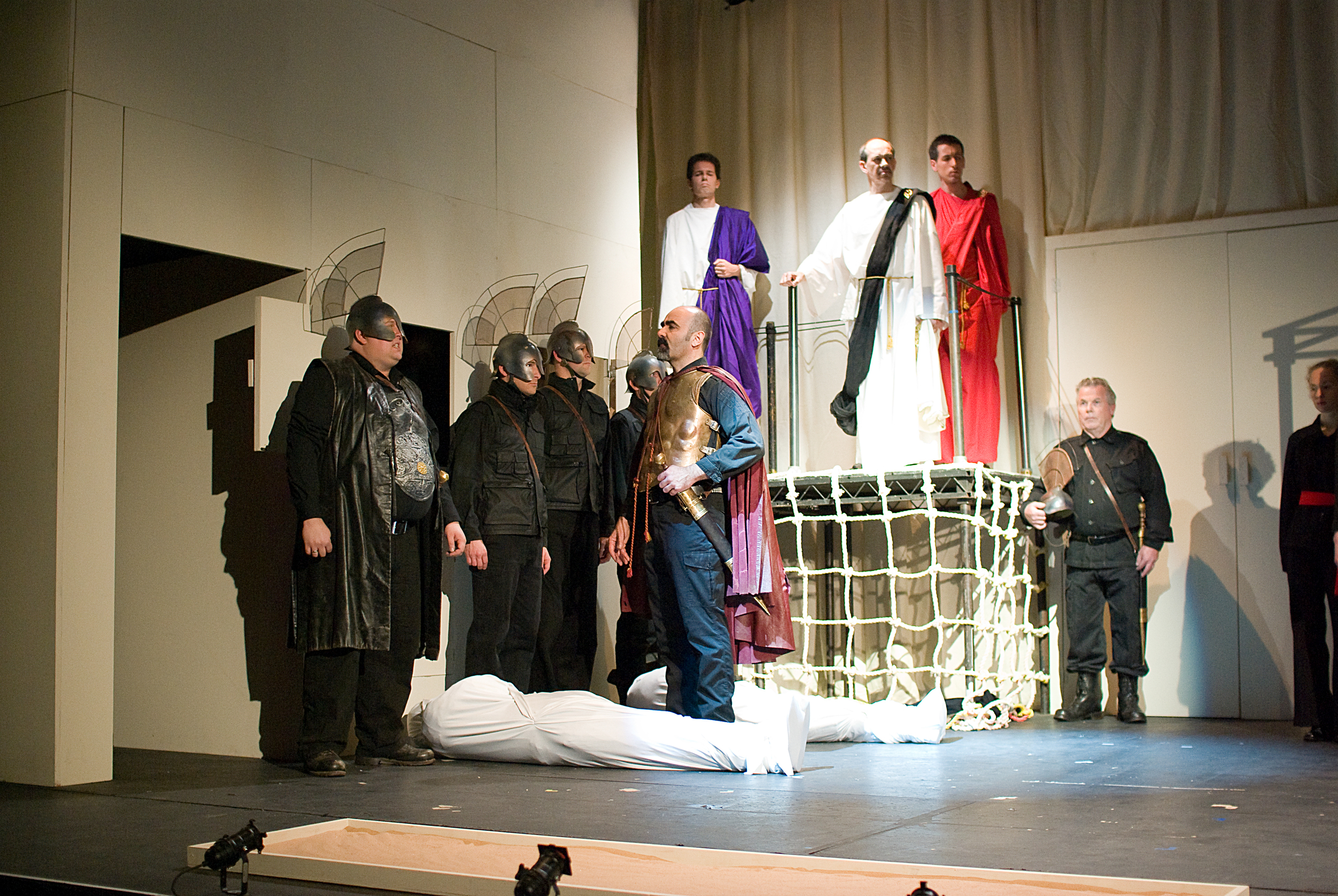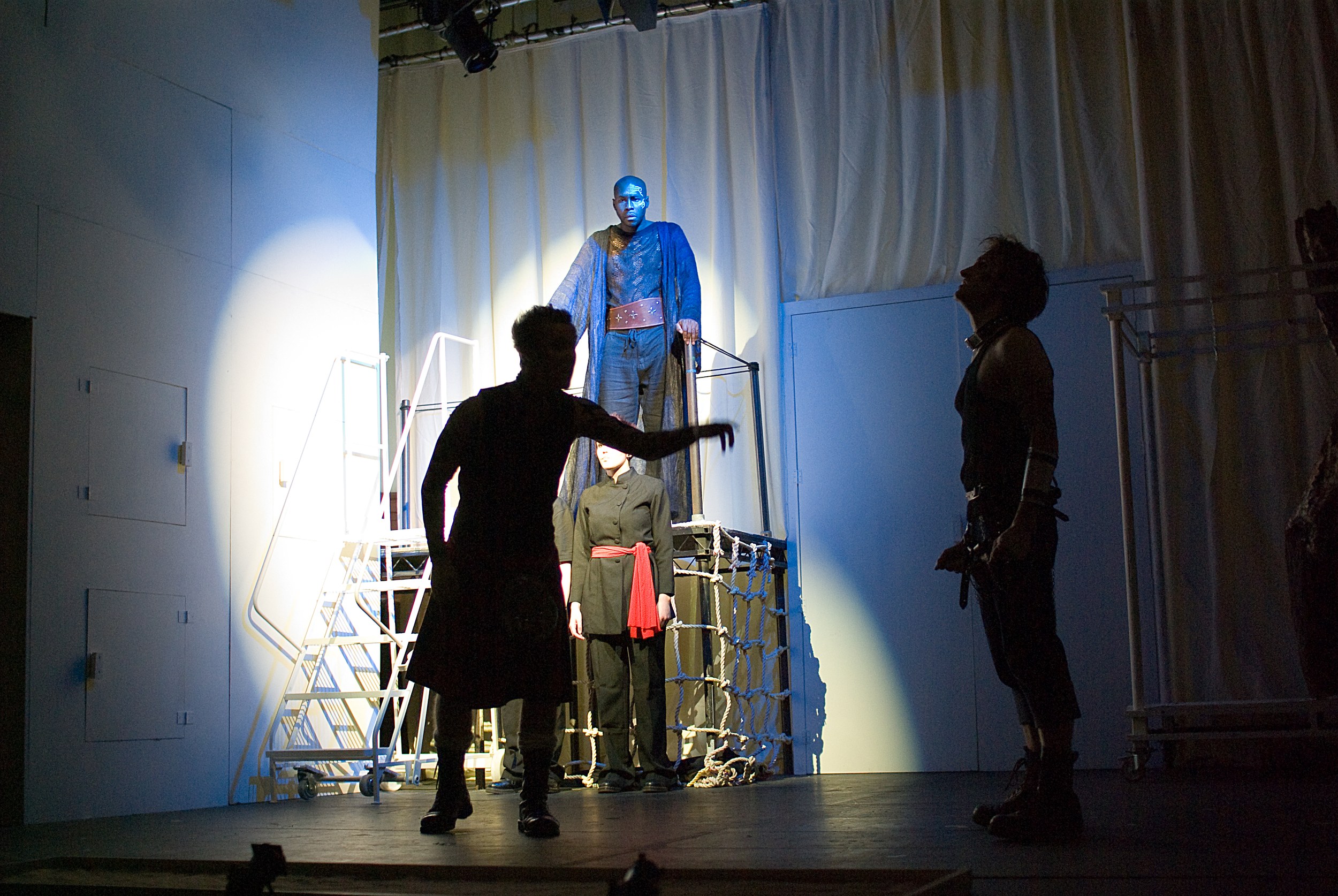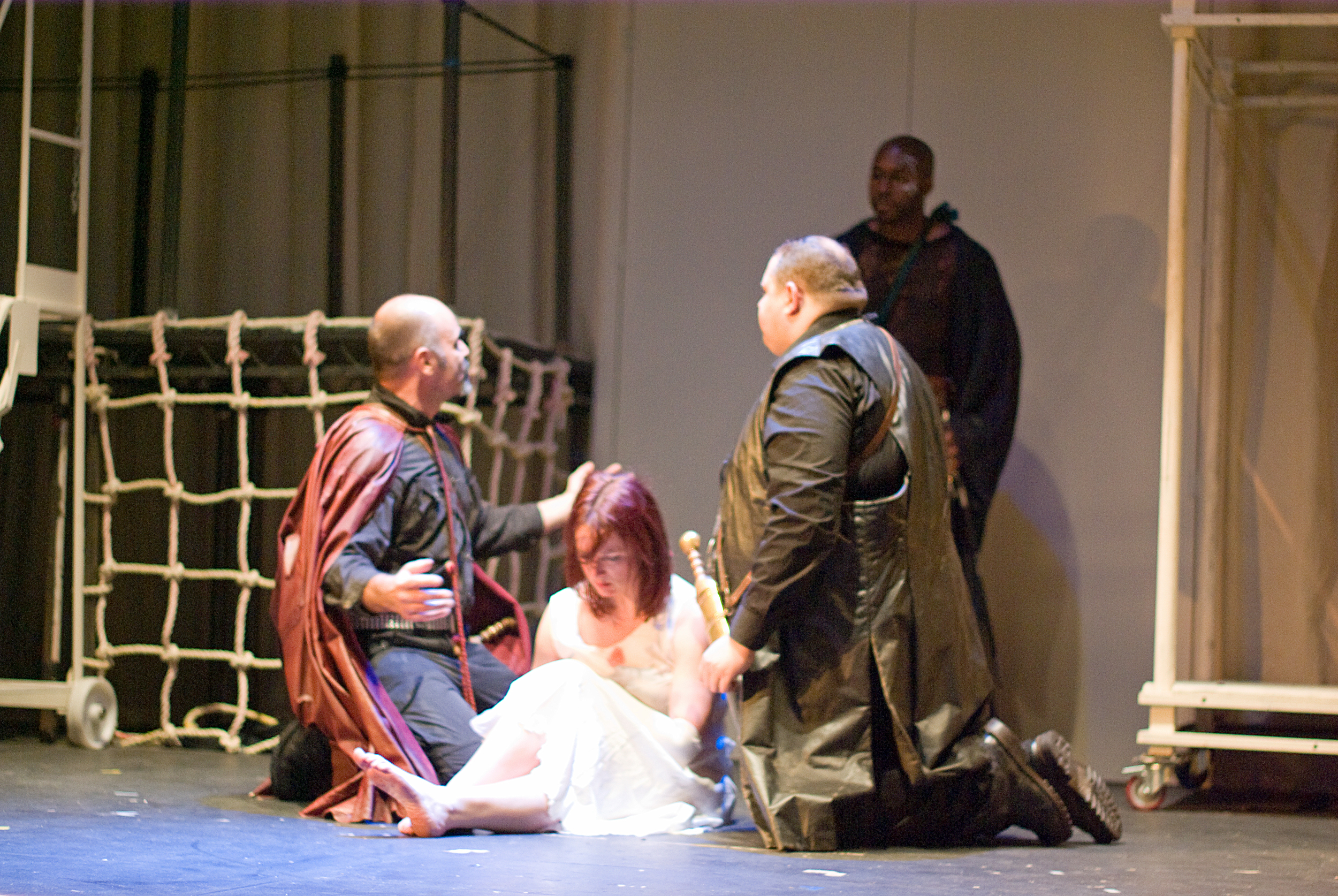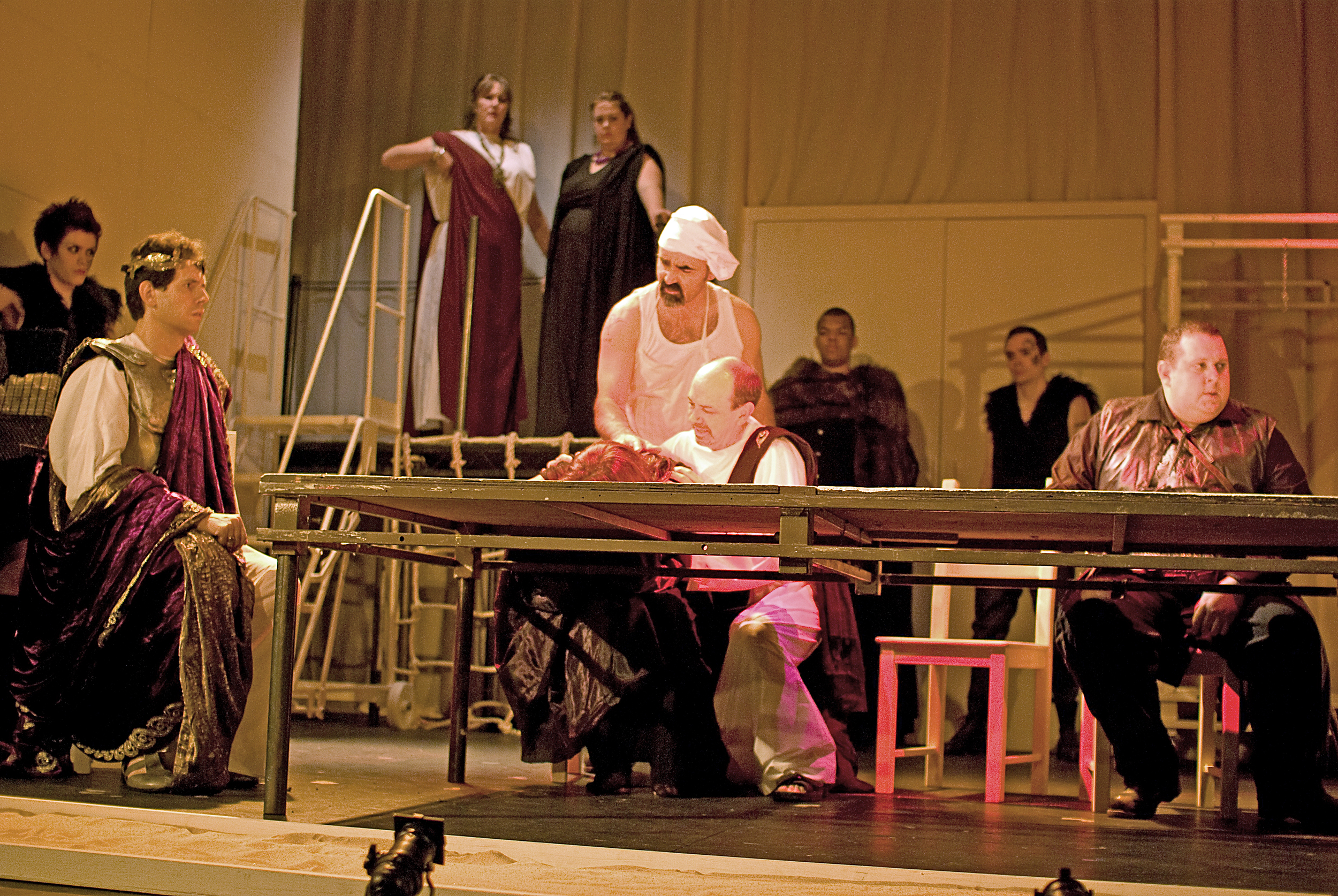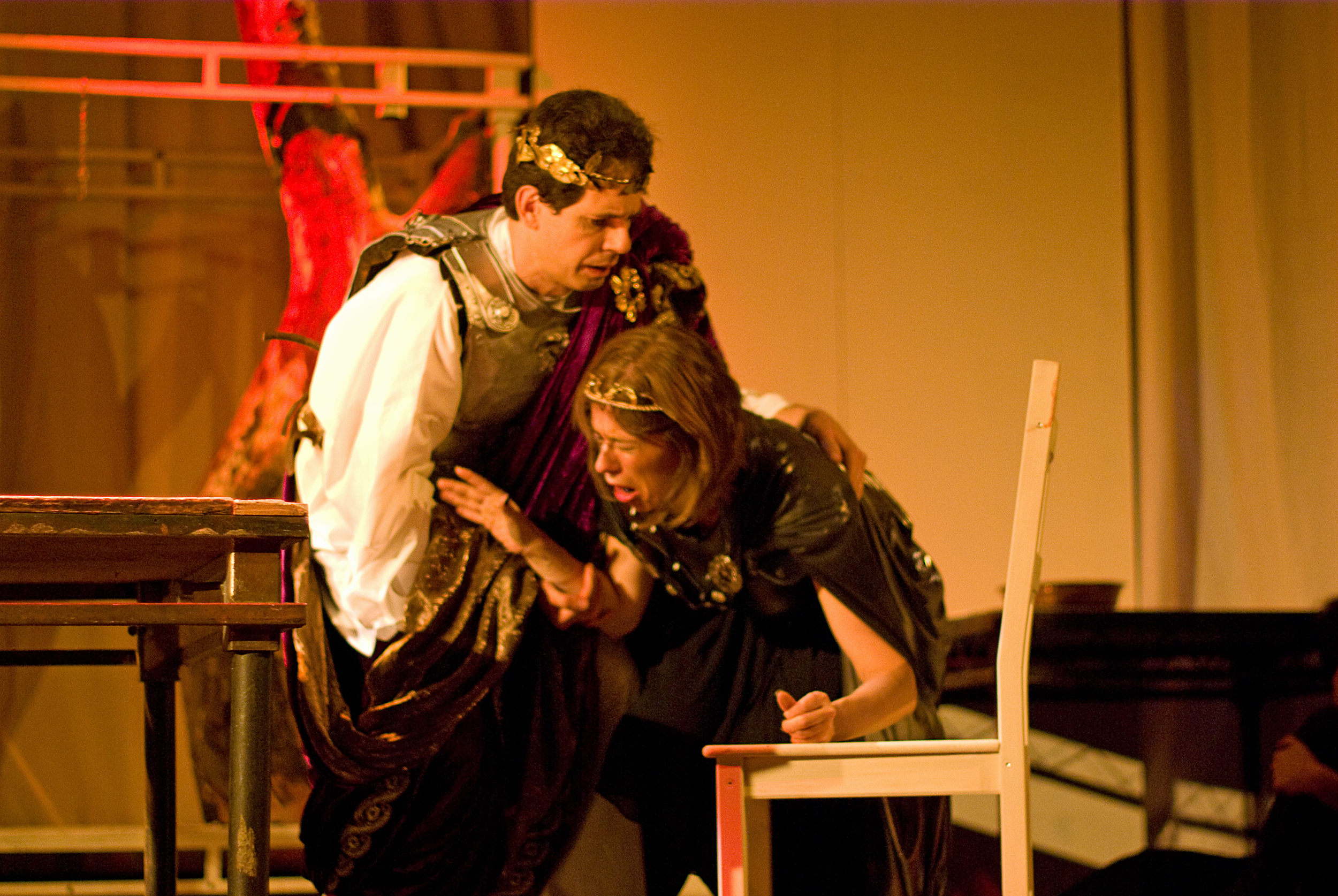 All photographs taken by Bryan Cleary.
Crew
Director - Chris Scott
PA To Director - Elaine Lawrenson
Stage Manager - Ken Owen
Lighting Design - Shoki Winks
Lighting Operation - Neil Jones
Fight Direction - Lost Boys Productions
Wardrobe Mistress - Flora Palmer
Wardrobe Assistants - Jane Roy, Julia Johnson, Ann Sharp & Pat Kinnerley
Properties - Helen Cornfield & Cat Taplin
Prosthetics - Andrew Price
Special Make-up Effects - Louisa Ballard, Clare Snape & Elaine Lawrenson
Set Design - Chris Scott & Ken Owen
Set Construction - Ken Owen, Neil Jones and Members of the company
Prompt - Margaret Arnot
Poster Design - Kelly Fuller
Programme - CCT Creative Ltd.
Press - Joan Chambers
Photography - Bryan Cleary
Chaperone - Ann Sharp
Business Manager & Front Of House Manager - Phil Button
Front Of House Staff - Members of the company
Cast
Saturninus - Matthew Wiltshire
Bassianus - Stuart Philips
Titus Andronicus - Nick Hallam
Marcus Andronicus - Alan Smith
Lucius - Mathew Shepherd
Quintus - Matthew Sharratt
Martius - Mike Beddard
Mutius - Alex Roy
Lavinia - Nicky Beards
Young Lucius - Phillip Roe
Publius - Eric Skipper
Emilia - Charlotte Matthews
Nurse - Joan Chambers
Caius - Marco Boylan
Valentine - Greg Lunn
Captain - Terry Powles
Messenger - John Howarth
Noble Roman - Jenny Billington Earl
Roman Soldiers - Beth Eades & Maria Lunn
Tamora - Niki Caister
Alarbus - Marco Boylan
Demetrius - Matthew Swan
Chiron - Danny Duder
Aaron - Richard Davy
First Goth - Elena Fox
Second Goth - Nick Francis
Goth Soldiers - Matthew Sharratt, Mike Beddard & Alex Roy
Romulus - Matthew Swan
Remus - Danny Duder
Lupa - Joanna Hands