'Twelfth Night' & 'Henry V'
Dates
24th February - 8th March 1969
Directors
Donald Potter & Barbara Pipes
As was the custom at the time in 1969 we presented our 'Shakespeare Festival' - two back-to-back productions in consecutive weeks at the old Derby Playhouse in Sacheveral Street.
'Twelfth Night' used a set constructed at Shakespeare House by Duncan McGregor and painted by the production designer Susan Ingram, who also designed many of the ladies costumes. The song 'Come Away Death' was set to music by Frederick Minchin.
'Henry V' featured a fully painted set with banners and borders as well as original trumpet fanfares composed for the production by John Locke. Some costumes, notably those worn by the French royalty, were designed in-house by Peter Sellman and made by Jean Wood, Dorothy Turner and other company members. Princess Katherine wore a coronet specially made by Marcia Wheeler.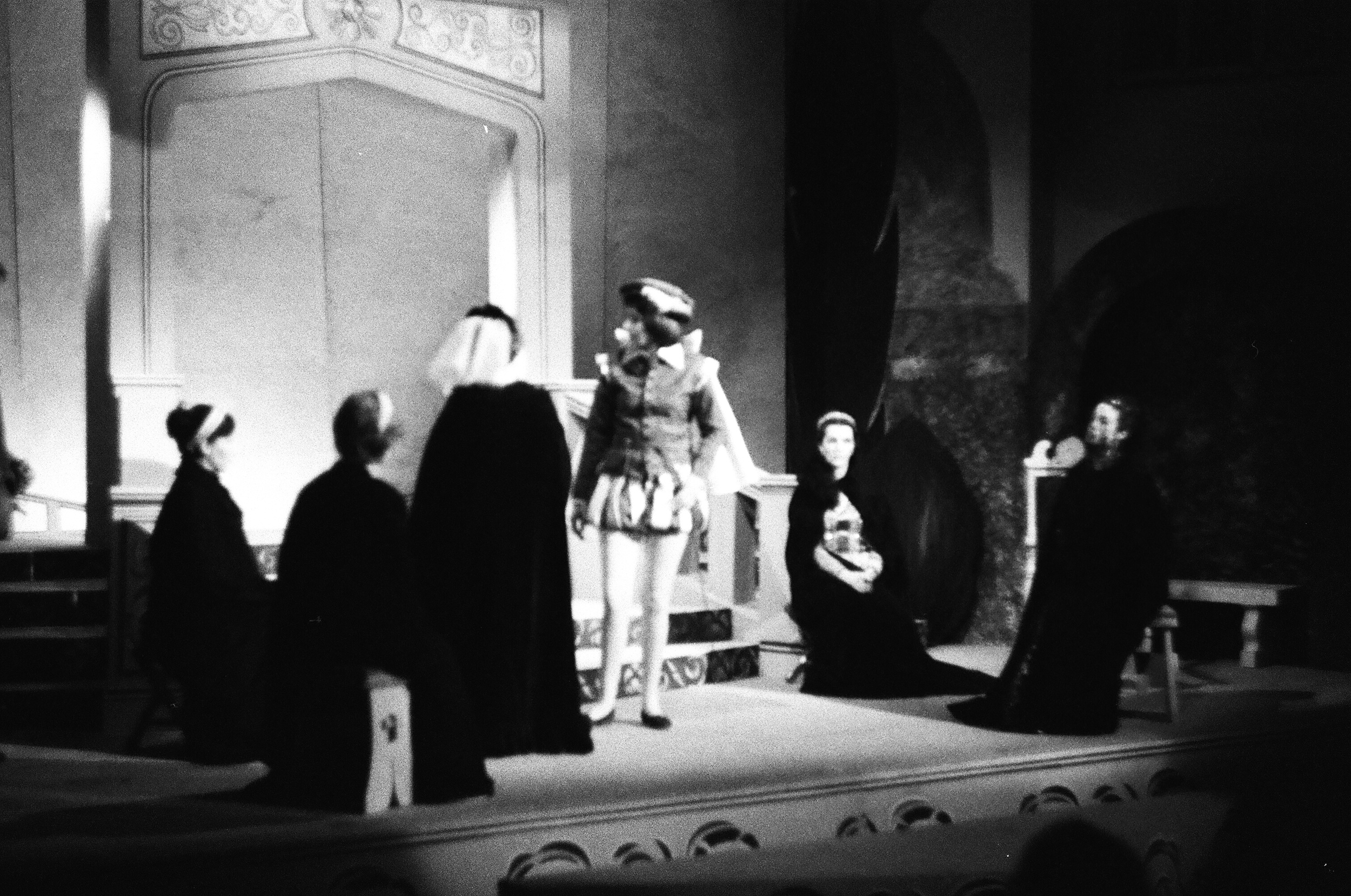 All photographs taken by Tony Eycott.
Crew
TWELFTH NIGHT
Director - Donald Potter
Settings & Lighting - Susan Ingram
Stage Director - Ruth Turner
Musical Director - Frederick Minchin
Wardrobe - Jean Wheeler, Sybil Gamble & Dorothy Turner
Properties - Mary Willis
Make-up - Ursula Eddowes & Members of the company
Prompter - Barbara Toy
Assistant Stage Managers - Jennifer Hinkley & Flora McGregor
HENRY V
Director - Barbara Pipes
Setting & Lighting - Peter Sellman
Stage Director - Jean Wood
Stage Manager & Assistant Stage Director - William Pottier
Sound Technicians - Fred Minchin & Nancy Peel
Wardobe - Jean Wheeler, Dorothy Turner & Members of the company
Properties - Mary Willis
Make-up - Enid Clarke & Members of the company
Prompter - Doris Knight
Cast
TWELFTH NIGHT
Orsino - Derek Palmer
Valentine - Eric Bakewell
Curio - Ewen McWilliam
First Officer - Tony Rees
Second Officer - Duncan McGregor
Viola - Jane Moore
Sebastian - Paul Carpenter
Captain - Tony Rees
Antonio - Keith Garratt
Olivia - Jessica Clewes
Maria - Vida Ayres
Sir Toby Belch - Reginal Westcott
Sir Andrew Aguecheek - Eric Spencer
Malvolio - Patrick Beck
Fabian - John Blackwall
Feste - Trevor Shields
Priest - Peter Wright
Lords - Roger Pegg & Christopher Ryde
Sailors - John Blackwall, Duncan McGregor, Colin Meynell & Peter Wright
Ladies In Waiting - Elizabeth Roberts, Nicola Stanhope & Julia Watson
HENRY V
Chorus - Keith Garratt
King Henry - Kenneth Pipes
Humphrey, Duke Of Gloucester - David Yates
John Of Lancaster - John Snow
Duke Of Exeter - John Williams
Duke Of York - Keith Briars
Earl Of Salisbury - Christopher Redfearn
Earl Of Westmoreland - David Samuel
Earl Of Warwick - William Goodhead
Archbishop Of Canterbury - Tom Jelley
Bishop Of Ely - Howard Smith
Earl Of Cambridge - Peter Hunt
Lord Scroop - Hugh Price
Sir Thomas Grey - Keith Briars
Sir Thomas Erpingham - Howard Smith
Gower - John Goddard
Fluellen - Hugh Price
Bates - Percy Pickering
Court - Kenneth Tipper
Williams - Dennis Eddowes
Pistol - Kenneth Collier
Nym - Fred Minchin
Bardolph - William Goodhead
Boy - Roger Clay
Charles VI, King Of France - Richard Carter
Dauphin - Tony Jaggers
Duke Of Burgundy - Christopher Redfearn
Duke Of Orleans - Eric Dicken
Duke Of Britaine - Keith Briars
Duke Of Bourbon - Peter Hunt
Constable Of France - Graham Dear
Rambures - Peter Hunt
Governor Of Harfleur - Dennis Eddowes
Montjoy - Peter White
Messenger - James Pickering
Page - Andrew Pickering
English & French Soldiers - Keith Briars, Fred Minchin, Philip Ottewell, James Pickering, Kenneth Tipper & Norman Whitmore
Isabel, Queen Of France - Marjorie Minchin
Katherine - Jean Gyte
Alice - Joan Garratt
Hostess - Edna Sillitoe
Ladies & Citizens - Jane Carter, Muriel Perkins & Victoria Smith