Dates
30th January - 3rd February 2001
Though already well known to Derby audiences as a performer, not least for his award-winning portrayal of the lead role in our 1999 production of 'Hamlet', Alan Smith proved himself equally assured and effective in the director's chair with his 2001 production of 'Macbeth'.
The production featured a lifelike Birnam Wood in the form of trees transplanted to the Derby Playhouse stage from the grounds of Shakespeare House and dark, moody design characterised by miltary costumes and eerie lighting.
Mark Hopwell and Carolyn O'Brien transfixed audiences as the scheming central couple and the rest of the cast proved just as powerful in this evocative and memorable production.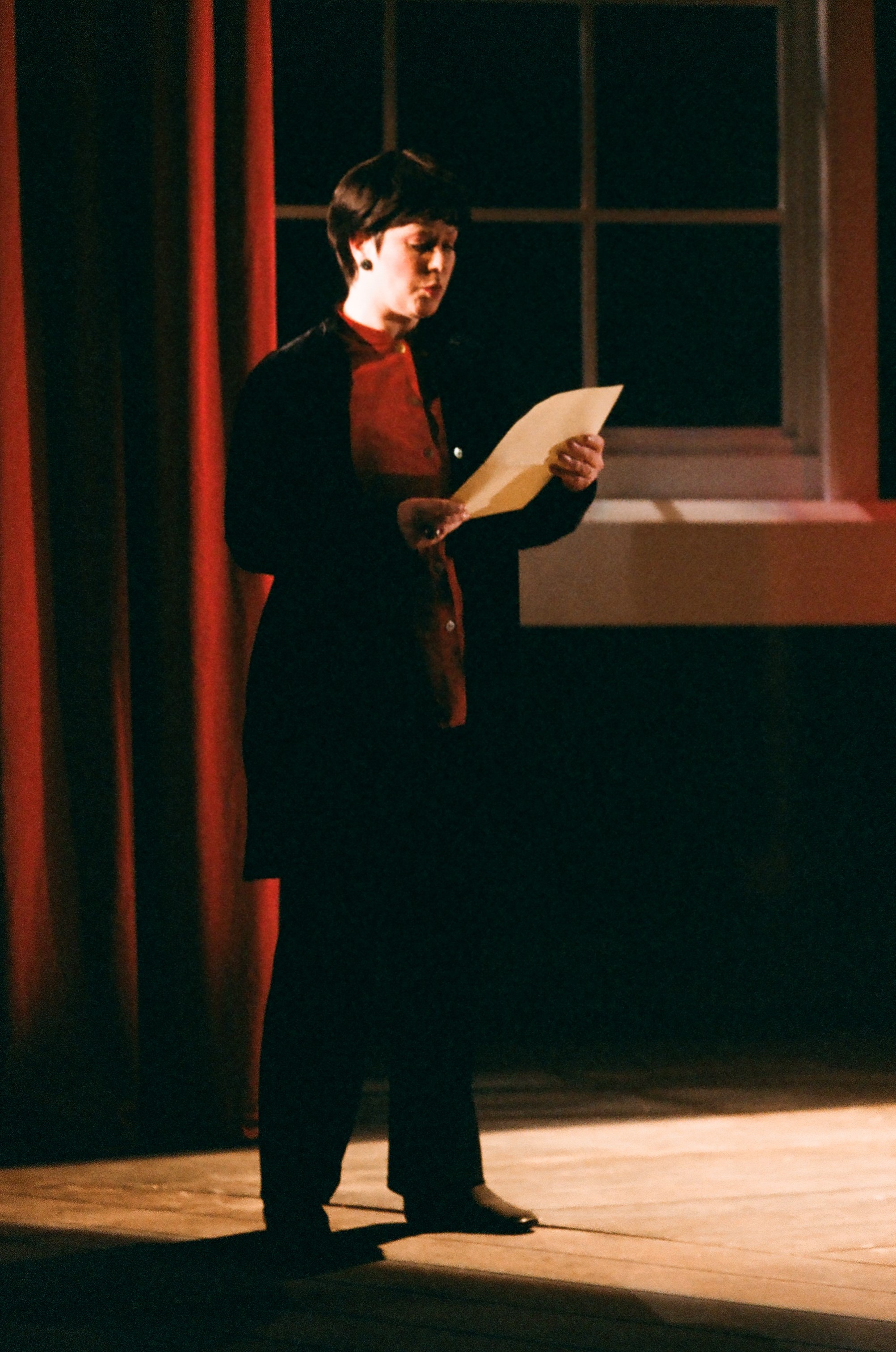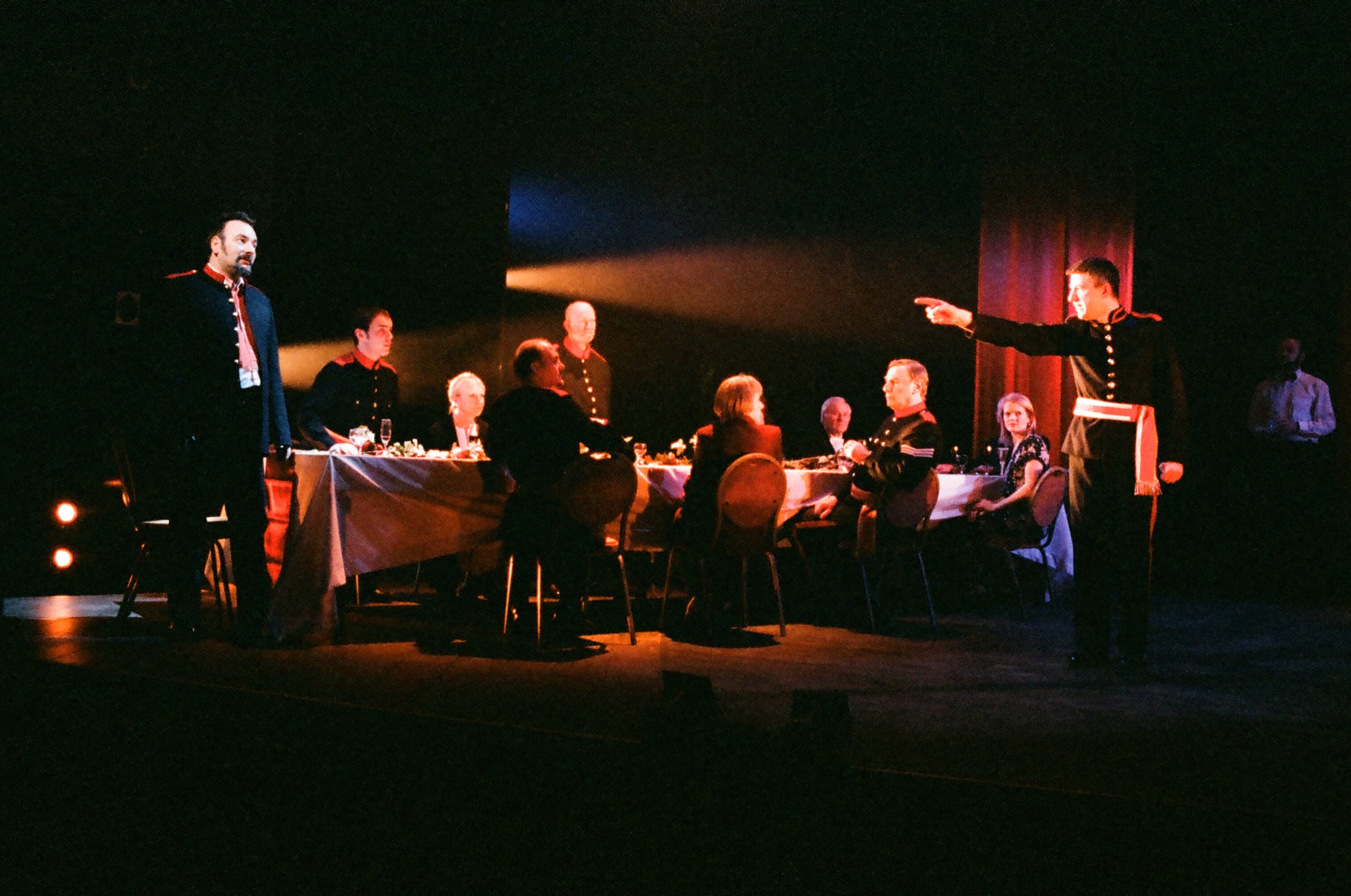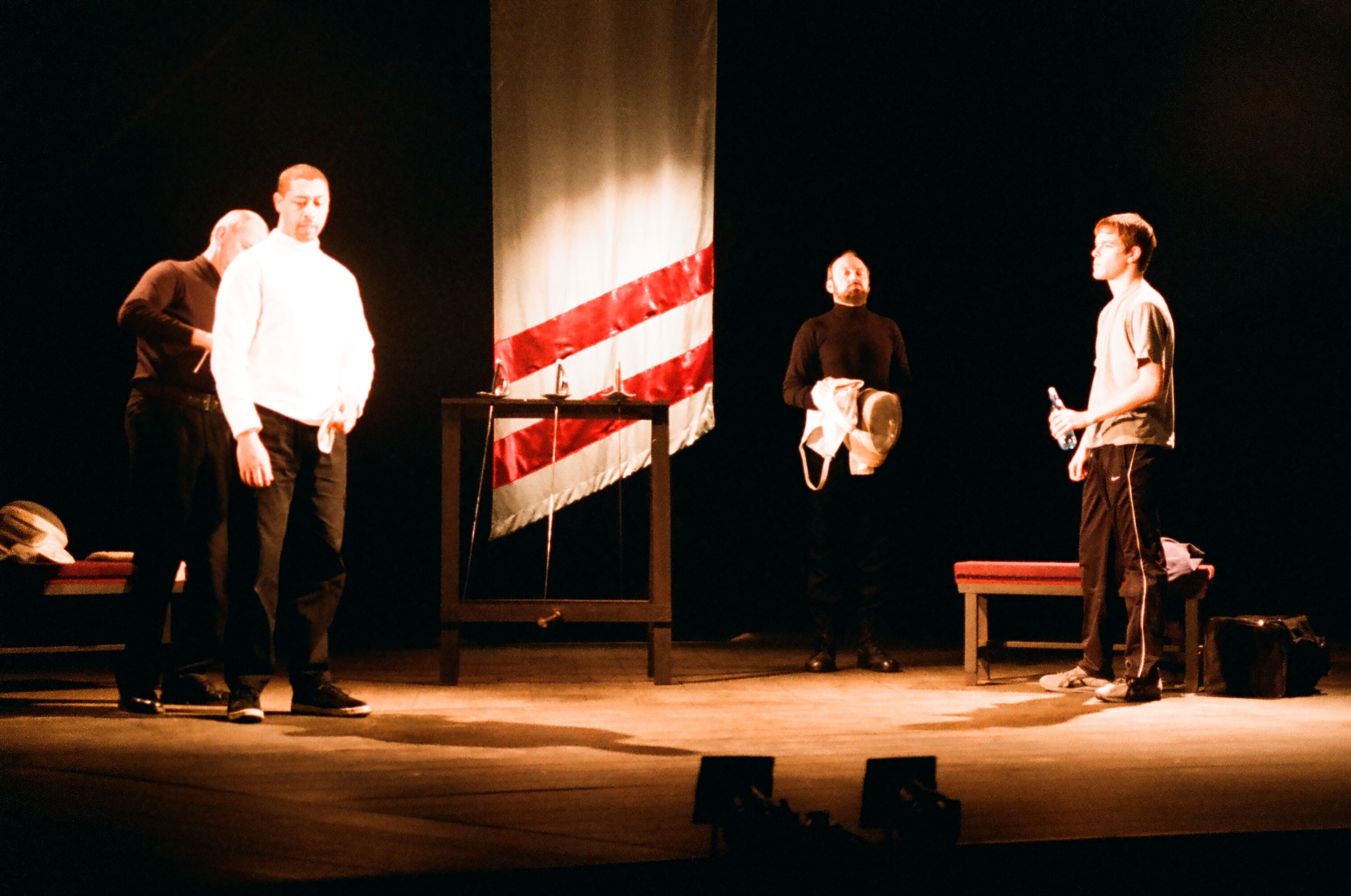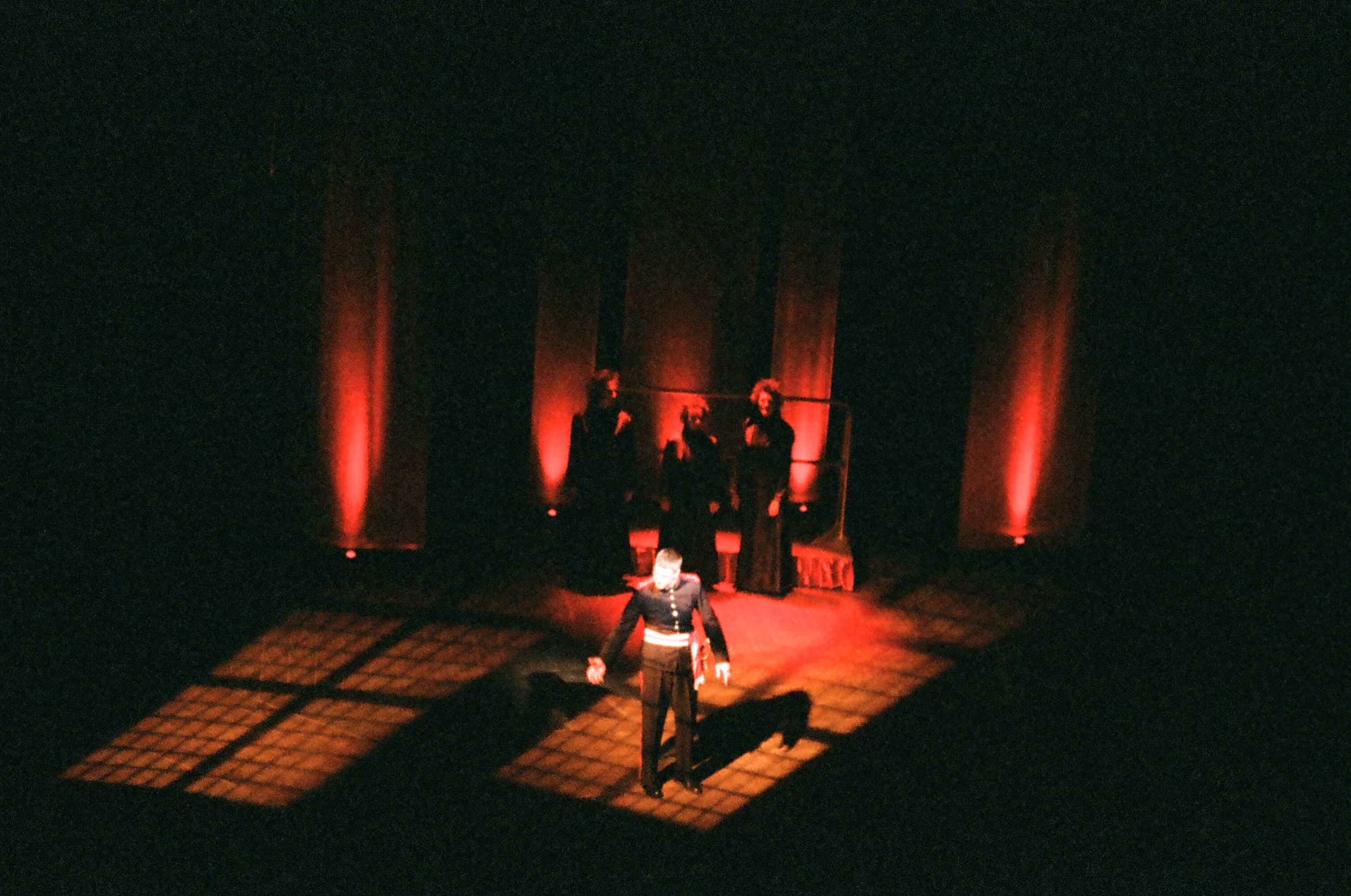 All photographs taken by Tony Eycott.
Crew
Director - Alan Smith
Designer - Gavin Ling
Stage Manager (DSTC) - Ken Owen
Stage Managers (Derby Playhouse) - Ben Monk & Stuart Harrison
Lighting Design - Alex Stafford
PA - Ann Toy
Music & Sound Design & Recording - Ashley Franklin
Lighting Operator - Nick Greenhill
Sound Operator - David Phillips
Book - Angharad Cartwright
Wardrobe Mistress - Flora Palmer
Wardrobe Seamstresses - Karen Owen & Lynda Smith
Wardrobe Assistants - Pat Kinnerley, Catherine Robinson & Ann Sharp
Props - Ruth Eycott & Ann Toy
Stage Crew - Paul Harrington, Alan Jackson, Andrew Jones, Barry Jones, Helen Savage & Brian Stokes
Prompt - Margaret Arnot
Set Construction - Tony Eycott, Alan Jackson, Barney Jones, Ken Owen, Brian Renshaw, Brian Stokes, Leigh Taylor & members of the company
Poster Design - Paul Arnot
Follow Spot Operator - Antony Owen
Fight Director - Martin Frost
Children's Matron - Karen Owen
Photography - Tony Eycott
Programme Design - Louise Owen-McGee
Press Officer - Joan Garratt
Business Manager - Tony Jaggers
Front Of House Manager - Tony Eycott
Cast
First Witch - Joanna Hands
Second Witch - Jenny Earl
Third Witch - Jill Cocke
Duncan - Eric Spencer
Malcolm - Matt Barker
Sergeant - Bryan Cleary
Lennox - Ian Arnot
Ross - Gordon Gell
Macbeth - Mark Hopwell
Banquo - Daniel Madison
Angus - Jonathan O'Boyle
Lady Macbeth - Carolyn O'Brien
Gentlewoman - Molly Renshaw
Fleance - Andrew Harker
Porter - Mike Leech
Macduff - Andrew Hislop
Donalbain - Mark Arnot
Old Man - Eric Dicken
First Murderer - Nick Hallam
Second Murderer - Will Tipper
Menteith - Tony Cooper
Lady Macduff - Chris Smith
Macduff's Children - Lizzie Smith & Alex Brown
Doctor - Bernice McLaren
Syeton - Lorna Harrington
Siward - Tony Jaggers
Young Siward - Kevin Redfern
Others - Lindsay Austin, Jake Billington, Faye Brown, Ian Brown, Rachel Collinge, Jenny Cooper, Helen Cornfield, Melvyn Crabtree, David Culm, Elaina Evans, Martin Frost, Vicky Frost, Joan Garratt, David Guest, Ben Hands, Cliff Perry, Terry Powles, Judy Pratt & Bill Smith