'The Taming Of The Shrew'
venues
Markeaton Park & Minack
Dates
22nd - 26th June & 30th August - 3rd September 1993
Director
Mike Charlesworth
Mike Charlesworth's 1993 'The Taming Of The Shrew', our eighth production of this perennially popular play, made for a great return visit to the Minack Theatre in Porthcurno. Cornwall following our award-winning success there with 'Much Ado About Nothing' in 1991.
Keith Briars and Jenny Billington headed an excellent cast in this fast and funny production. The show also played in Derby's leafy Markeaton Park, another perfect setting for outdoor summer Shakespeare and one we revisited in 2006 with 'Romeo & Juliet'.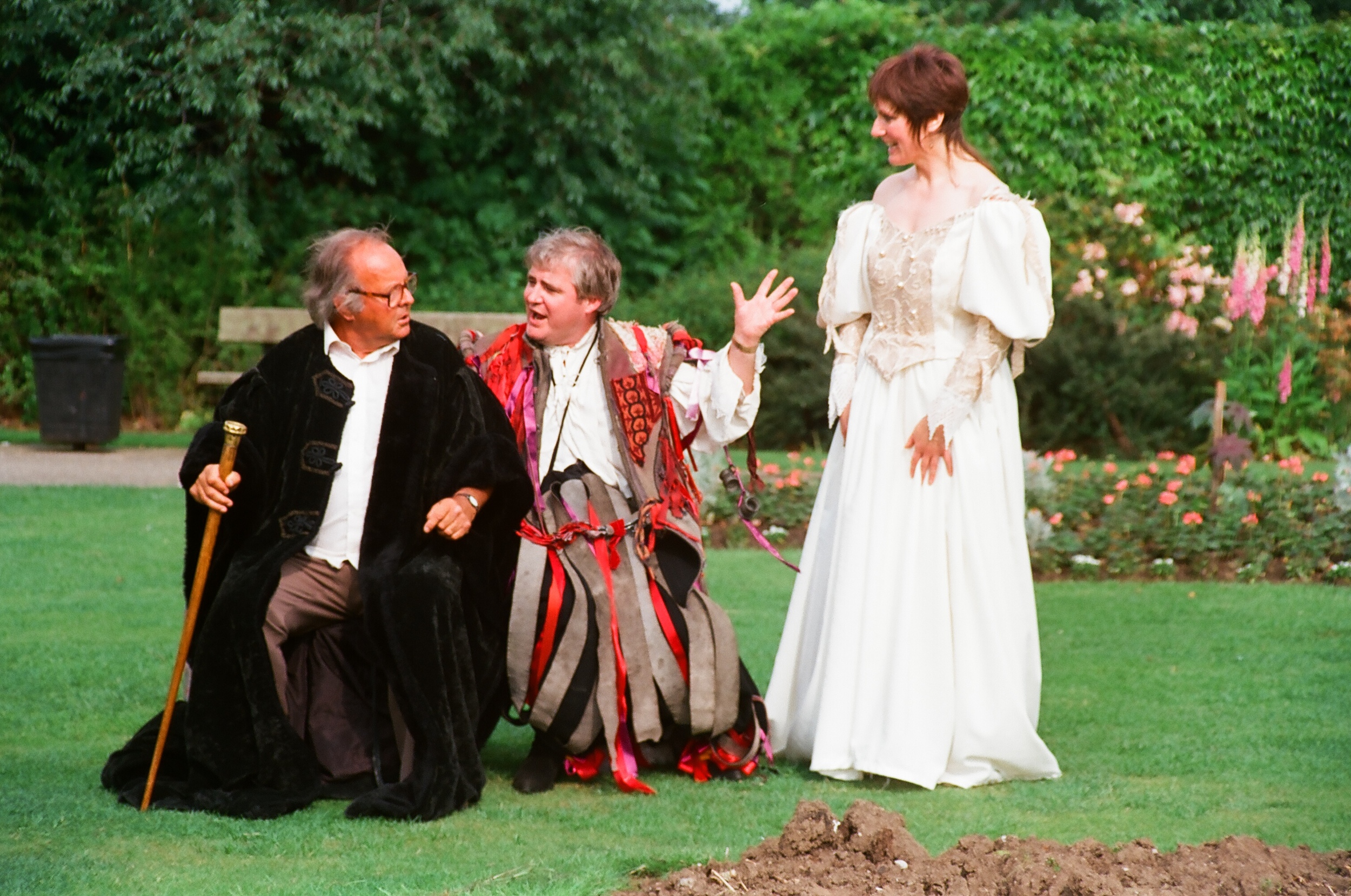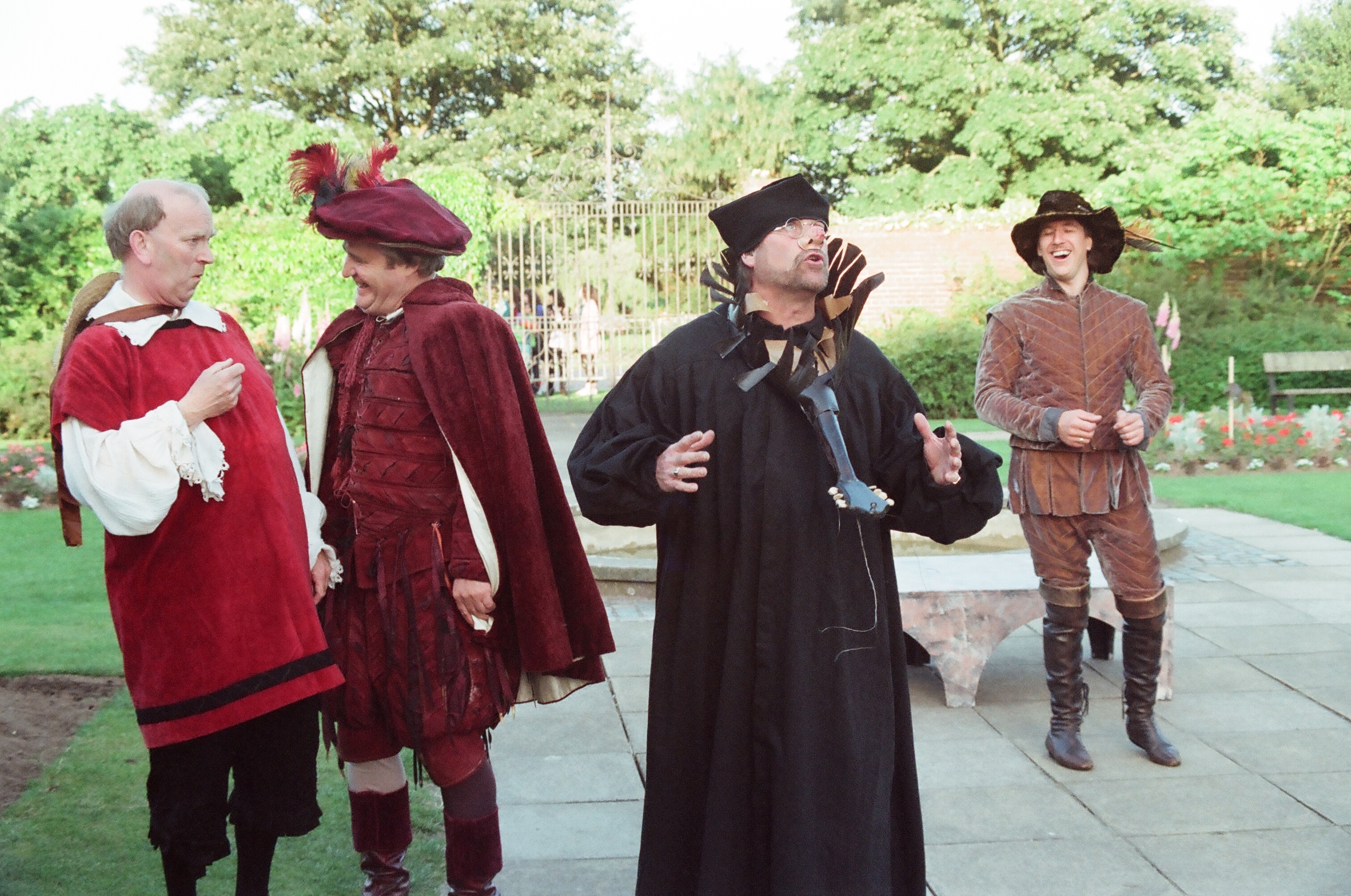 All photographs taken by Tony Eycott.
Crew
Director - Mike Charlesworth
Stage Director - Peter Harrington
Wardrobe - Flora Palmer, Joyce Dean, Lynda Smith, Jane Bennett, Lynne Adams, June Colclough & Alison Haynes
Props - Ruth Eycott, Ann Toy, Alicia Petty & Judy Pratt
Prompt - Margaret Arnot
Lighting - Neil Worton - Kirsty Tallys
Sound - Andrew James
Stage Crew - Alan Jackson, Glenn Ford, Gerry Grant & Lorna Harrington
Chaperone - Melanie Hopwell
Front Of House - Phil Button
Publicity - Alicia Petty
Business Manager - Tony Jaggers
Cast
Baptista Minola - Ian Arnot
Vincentio - Mike Charlesworth
Lucentio - Mark Dickinson
Petruchio - Keith Briars
Gremio - Tony Jaggers
Hortensio - Mike Evans
Tranio - Mark Hopwell
Biodello - Tony Cooper
Grumio - Alan Smith
Curtis - Steve Foster
Pedant - David Guest
Priest/Haberdasher/Officer - David Culm
Katherina - Jenny Billington
Bianca - Carolyn O'Brien
Widow - Jill Cocke
Seamstress - Elaina Evans
Gentlewomen - Christine Bayley, Chris Bloor, Helen Cornfield, Jewel Juden, Pat Kinnerley, Amarylis Roy, Chris Smith & Sue Stuart
Petruchio's servants, urchins & choir - Annie Adams, Kelly Adams, Oliver Adams, Jonathan Cooper, Rachael Cornfield, Emily Dean, Gemma Eaton, James Gilbert, Lucy Gilbert, Charlotte Palmer, Chris Price, Laura Smith & Melissa Stanton